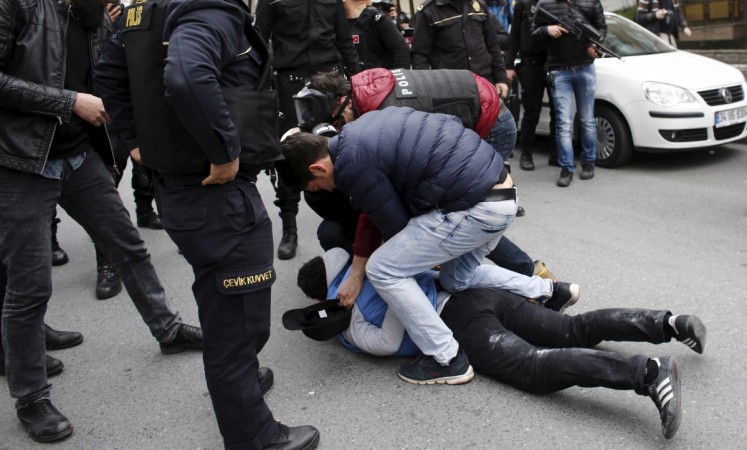 Kurds gathered Monday to celebrate Newroz as curfew was lifted in Diyarbakir, the largest city in southeast Turkey. Tight security was maintained during the new year festivities Monday after the interior ministry announced it had achieved its counter-insurgency aim in the area. However, curfew persisted in other parts of southeastern Turkey.
Water cannons were used and arrests were made Sunday in Silopi city, hundreds of kilometres away from Diyarbakir in southeastern Turkey, during Newroz, RT reported.
Ankara's ban on mass gatherings in Diyarbakir, as a counter-insurgency measure applied since March 15, was lifted Monday. The Kurds have been fighting for greater independence and autonomy from Turkey, and the struggle has been greatly violent as a series of bombs attacks were carried out in various parts of the country. The latest bomb attack was in Istanbul Saturday, but was attributed to the Islamic State group. At least 80 people have reportedly died in attacks carried out by Kurdistan Workers' Party (PKK)-linked groups and the ISIS in Ankara and Istanbul.
"The curfew announced March 15...has been removed starting 6:00 a.m. [04:00 GMT] due to the re-establishment of security and public order, [sic]" Sputnik News quoted Diyarbakir Governor Huseyin Aksoy as saying in a statement, while Turkey's Interior Minister Efkan Ala said Sunday seven regions in southeastern Turkey would be under curfew 24X7.
During the Newroz festival celebration Monday, gatherers were seen waving PKK flags and hoisting banners in support of the armed group. Slogans in support of Abdullah Ocalan, PKK's jailed leader, were also shouted, Reuters reported.
Festival-goers and their cars were thoroughly searched by government security forces and identities of people were checked in hotels and restaurants. Newroz celebration has been permitted in 18 provinces, while a ban remained on most of the country, and at least 200,000 security officials have been deployed, Reuters quoted Ala as saying.