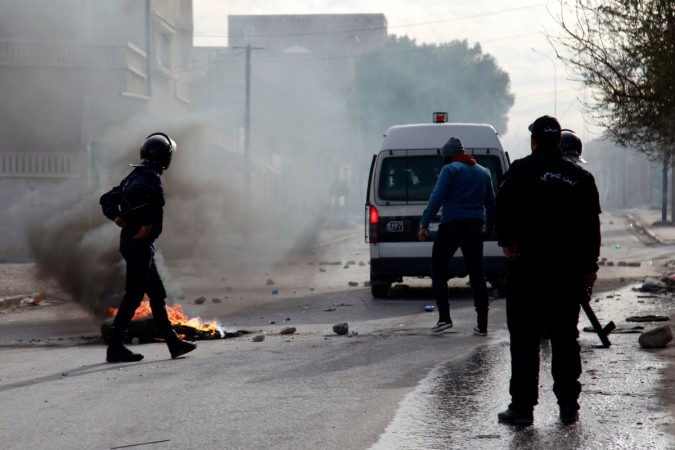 Days before the end of 2018, violence erupted in Tunisia after the death of a journalist who set himself on fire to protest against economic problems in the nation.
Abderrazak Zorgui, a journalist, set himself on fire in the city of Kasserine, on Monday, December 24. The 32-year-old also posted a video online, in which he spoke about the economic issues in the North African nation and how people were struggling with corruption and poor living conditions.
"For the sons of Kasserine who have no means of subsistence, today I start a revolution. I am going to set myself on fire," Zorgui said in the video, adding that it was disheartening to see that the promises made during Tunisia's 2011 Arab Spring revolution hadn't been fulfilled.
Zorgui's funeral was held on Tuesday in Kasserine on Tuesday, December 25.
His death has now led the city to erupt in protests, with residents pelting stones at the police and setting tyres on fire. The Tunisian National Journalists' Union also called for demonstrations and accused the government of turning a blind eye to the corruption in the country. In a statement, the union said that Zorgui had lost his life to "difficult social conditions and lack of hope."
"The reasons for this young man's suicide are poverty and marginalisation, as well as the fragile situation of most journalists," Al Jazeera quoted Latifa Labiadh of radio station Amal as saying.
Zorgui's self-immolation was "a sign of rejection of a catastrophic situation, regional imbalances, high unemployment among young people and the misery in which our fellow citizens live in the interior regions," said the Tunisian newspaper Le Quotidien.
"No one can deny today that all the leaders of this country are responsible, responsible for the distress of our youth, their despair and their frustration."
The police are said to have fired tear gas at the violent protesters. Until now, six officials of the Tunisian police have been injured and the forces have arrested about 18 people.
The army too has been deployed to control the situation and protect the state buildings, according to ShemsFM radio.
Tunisia witnessed similar protests in late 2010 as well, when Mohamed Bouazizi, a street vendor set himself on fire opposing unemployment, corruption and repression. The large-scale protests even brought down Tunisia's authoritarian president in 2011 and the country welcomed democracy.
2018 — A rough beginning and end for Tunisia
While Tunisia is ending 2018 on a violent note, the beginning of the year was no better. In January 2018, several towns and cities across Tunisia erupted in protests after a new law raised taxes on gasoline, housing, internet usage, phone cards, hotel rooms and food items.
The law, which came into effect on January 1, also raised import duties on cosmetics and several agricultural products.
The nation witnessed massive protests that led to a Jewish school being firebombed, and protesters burning a regional national security headquarters. About 2100 troops had been deployed to "protect sovereign institutions and vital facilities" such as "banks, post offices and other government buildings in the country's main cities" according to Defense Ministry spokesman Belhassen al-Waslati.
One person was killed, and five were injured in these riots. About 500 police officials were reportedly injured at the time.