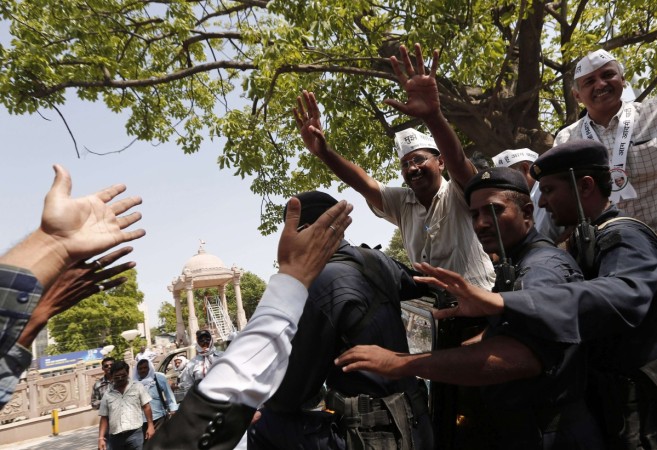 It is not just the Aam Aadmi Party's luck that seems to be drying out; it is also seeing trickling donations from supporters even as it faces an internal crisis among top party leaders.
The party has seen donations falling from an average of ₹30 lakh a day in April to meager amounts in thousands in June, with an exception on 10 June, as per a Hindustan Times report.
As per the party's official website, the amount the party raised through donations remained mostly under ₹50,000 a day over the last fortnight, with an exception of a few days, when it soared higher. On Tuesday, the amount crossed ₹1.39 lakh, and the total donations to the party since the Delhi assembly elections as shown on the website was more than ₹36 crore.
According to party member Preeti Sharma Menon, party spokesperson for the Maharashtra unit, who spoke to International Business Times India Edition, the fall in donations was mainly because of the halt in donation drives.
"After the general elections, we stopped making calls for donations and conducting donation drives. We have enough funds for operational issues, and we do not need to ask for donations until the upcoming assembly elections, for which we will start the drives soon," said Menon.
"Yes, the donations have come down in the last month, and it could partly be because of a change in perception among some AAP supporters who may have been disappointed by the election results and stopped donating. But we are sure once we start our drives soon, we will get good donations again, as the party has hardcore supporters, especially in Maharashtra, which raises the highest funds among all states," she told IB Times India Edition.
As per data on the party's website, donations from Maharashtra equaled 26.4 percent of the total donations, above Delhi's 22.9 percent. About 30 percent of the party's donations have come from abroad, from supporters in countries such as the United States, Canada, United Arab Emirates and Hong Kong.
AAP had managed to raise huge funds since its inception, particularly on days when the party members were caught in controversies.
As per Hindustan Times, when party convener Arvind Kejriwal was slapped in Delhi on 4 April, donations poured in to the tune of ₹1.46 crore in a single day, and on the day he announced his candidacy from Varanasi in March, funds soared above ₹1 crore.
However, the party's trounce in the Lok Sabha elections seems to have had an impact on its coffers. The party managed to win only four seats in the elections, despite fielding more than 400 candidates.
Post the electoral debacle, several top leaders such as Shazia Ilmi and Captain Gopinath quit the party, further hurting the party's image.