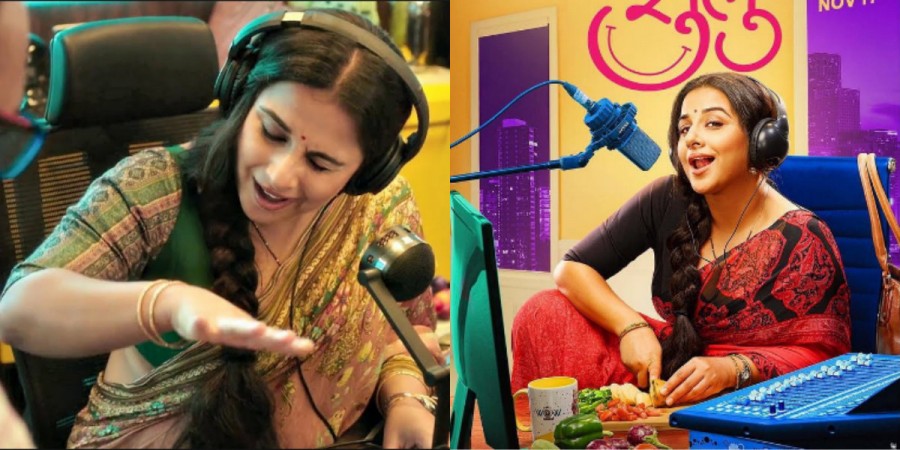 Bollywood actress Vidya Balan is back with yet another interesting story. Released on November 17, Tumhari Sulu features Manav Kaul and Neha Dhupia other than Vidya. Bollywood critics and celebs have lauded Vidya's performance and storyline.
They watched it at a special screening and praised Vidya's simple yet powerful character.
Vidya Balan plays a middle-class married woman named Sulochana aka Sulu in Mumbai suburban. She is a happy-go-lucky person and her husband a sales manager. Sulu who is a regular radio listener, one day, takes part in a contest on the radio and wins a pressure cooker.
But in an unexpected turn of events, she lands a job of an RJ (radio jockey) for a late night show. How she carries herself as an RJ while getting a sneak peek into several people's lives is the story.
Manav Kaul, of CityLights and Kai Po Che fame, plays her husband, while Neha Dhupia plays her boss.
The film is a slice-of-life story but will ultimately be about the choice Sulu has to make to maintain work-life balance. The trailer too garnered immense appreciation from all quarters.
This is the second time we will see Vidya Balan as an RJ on the big screen, after Rajkumar Hirani's Lage Raho Munnabhai. For Tumhari Sullu, Vidya took some lessons from RJ Malishka, who also stars in the film.
Directed by debutante Suresh Triveni, the film is produced under the banners of T-Series and Ellipsis Entertainment.
Critics and celebs have reviewed the movie and shared their feedbacks.
Here's what critics say about the movie:
Rohit Bhatnagar of Deccan Chronicle said: "Tumhari Sulu is a slice of a life film which is worth your ticket price. It is engaging and has a massive social message. Don't miss this riveting tale of a middle class housewife cum radio jockey. You will definitely come out of the theatres with tears of joy!"
Nandini Ramnath of Scroll.in said: "Balan delivers the belly-shaking laughs and heart-wringing tears with equal deftness. Sulu has her listeners at hello, but Balan scores from the moment she enters the frame all the way to the final close-up, where her face fills the screen and illuminates it."
Sreeju Sudhakaran of Times Now said: "Tumhari Sulu is definitely a feel-good movie for the family audiences, bolstered by charming performances from Vidya Balan and Manav Kaul. Though the movie suffers from lag and heaviness in the second half, its good intentions, as well as the chemistry between the lead pair, make the proceedings bearable enough. We only wish they could have tied up things better in the climax. Still an endearing effort from the entire team. Go for it!"
Smrity Sharma of India.com said: "Watching the impeccable Vidya Balan perform on screen is a treat in itself. And when it is a story that has all the right elements to keep you engaged and entertained throughout, you have a winner at hand. Tumhari Sulu is one such film – sweet, simple, touching, highly entertaining and totally unmissable."
Anita Iyer of Khaleej Times said: "Vidya Balan has in recent years entertained us as the leading face of her films - be it Kahaani or Dirty Picture - and she will keep you hooked as Sulu. Never in a scene does it go overboard but plays the character well within her limits. As an RJ, Vidya could have easily gone out loud but Sulu is in control and instantly likable. She will have you smiling from the first scene."
Meena Iyer of DNA said: "Vidya Balan's indomitable spirit is infectious. And that is what makes Tumhari Sulu worth a watch. Having said that, the film is almost 20 minutes too long and that kind of makes you slightly restless."
Manjusha Radhakrishnan of Gulf News said: "If you are in the mood for a sweet family drama that has a generous helping of comedy and excellent performances, then make sure to watch Tumhari Sulu."
Here's what celebs say about the film:
Through #TumhariSulu @vidya_balan shows us how truly versatile she is..from being this powerful lady in Dirty Picture to this endearing,ambitious cutie in Sulu? What a performer!❤️❤️ Go out and watch,you'll c what I mean???? #amazed

— Pooja Hegde (@hegdepooja) November 15, 2017