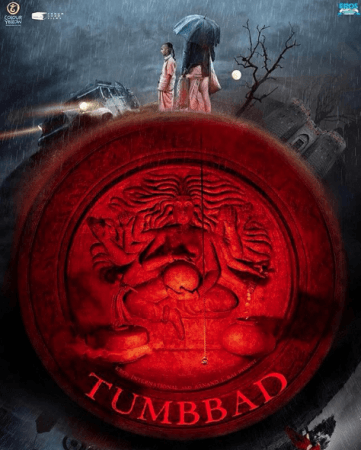 Colour Yellow Productions' much awaited horror-fantasy thriller Tumbbad hit theatres on Friday, October 12. Starring Sohum Shah, Jyoti Malshe, Anita Date, Mohammad Samad, Deepak Damle and Ronjini Chakraborty, the film is directed by Rahi Anil Barve. Let's take a look at what Tumbbad is all about.
Tumbbad is not just another horror film, it's a well-written, well-told story. Tumbbad is the art of storytelling though horror and spectacular visuals chipped in. It is not just about the ghost or the ghoul, it's about the decisions of right or wrong that human beings take on a daily basis.
Tumbbad is based on a story by Marathi author Narayan Dharap, who has written several stories in the horror genre, some of which were loosely inspired by those of author Stephen King.
Movies based on a book or a short story often have a well-constructed story, with a beginning, middle and end. Having that in a horror film is a privilege. Most horror films, whether made in India or in Hollywood, are run-of-the-mill with most of the focus being on the ghost or the spirit.
Having said that, there have been some very good horro-fantasy and adventure tales, and Tumbbad borrows a little bit from them. But the film and its story is entirely original.
What makes Tumbbad stand apart are the visuals and editing, with spectacular frames by cinematographer Pankaj Kumar, and editing by Sanyukta Kaza that keep you engrossed. The fact that it is a period film in a town where it rains very often, adds wonderful elements to the production design that make for good visuals, too.
Story and Treatment of Tumbbad
Set in pre-Independence era, Tumbbad tells the tale of Vinayak (Sohum Shah) whose family hails from the town of Tumbbad. Tragic circumstances force Vinayak and his mom to leave town for the city, but the young boy has already made up his mind to return one day to seek the treasure hidden in the goddess' 'womb' (deep within a well).
Despite warnings by his mother, Vinayak returns to Tumbbad as an adult and manages to trick the monster Hastar to gain the treasure. He is able to collect only a handful of mudras or gold coins from every visit, but greedy as he is, Vinayak returns regularly to dodge the monster and win his treasure.
Soon, Vinayak builds an empire and the village notices. He is tricked into buying expensive stuff and his ego is massaged by people. He also keeps a mistress, something which his older son (played by Mohammad Samad) notices. The son is being trained to go after Hastar and get the treasure after he grows up. But there is something else also he wants that his father has - the mistress. He woos her with a gold coin, saying that he will get married to her once his father passes away!
It is these kind of messages that Tumbbad has which make the film watchable. It is not just a film with ghosts, monsters and exorcism. The film shows the pre-Independence and post-Independence India without any images of freedom struggle or the British Raj. It shows how a son takes after a father. It shows how women are and were treated in society then, even in the upper-class.
As a Maharashtrian, while watching Tumbbad which has a Maharashtrian setting, a lot of the visuals of the village or the wada seemed very familiar -- having seen it in so many movies, television shows like Agnihotra, or even in real life. But for many moviegoers, this milieu will be new and interesting.
Moving on, the story of Tumbbadd does not end predictably. It ends rightly, one can say. It leaves you with a lot of questions on human behaviour.
The cinematography, as mentioned earlier, is spectacular and keeps you hooked. The visual effects and production design should not be compared to say, a Baahubali or a Hollywood film, as that will take away the sincerity with which Tumbbadd has been made. It truly is an amazing piece of work for Indian cinema.
Performance
Sohum Shah, Mohammad Samad and all other actors shine in Tumbbad, with the first two being the best. The movie may not break box office records, but is getting appreciation worldwide for its unique and interesting content. Its box office collection this weekend will make the audience wonder whether there will be a sequel written based on the author's story. Maybe there should be one.
Verdict: If there is an Indian film to be watched this week, it is Tumbbad!
Rating: 3 stars out of five.