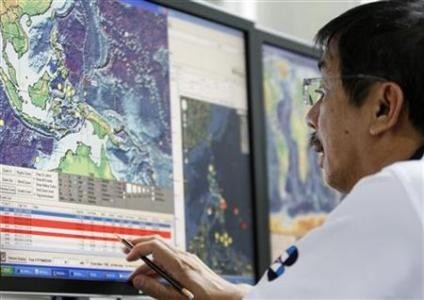 Philippine Institute of Volcanology and Seismology (Phivolcs) has lifted the tsunami alert in the coastal areas of Philippines after a strong 7.6 magnitude earthquake hit the country, killing at least one person on Friday night.
The Philippine authorities had maintained the tsunami warning and ordered the people living in the coastal areas to evacuate even after the Pacific Tsunami Warning Center lifted the alert.
However, ABS-CBN News reported that Phivolcs Director Renato Solidum had said hours after the quake that residents can return to their homes even as he advised the people to check for cracks in the walls and floors of their homes for their safety.
The Pacific Tsunami Warning Center had earlier issued alert for the Philippines, Japan, Indonesia, Taiwan, Papua New Guinea and other islands in the Pacific but was called off a couple of hours later.
Small waves as high as 19 centimeters caused by the quake were recorded in Surigao City at around 10 p.m. Waves in Siargao and Davao were also recorded but Phivolcs said these waves are not life-threatening, reported ABS-CBN News.
A tremor measuring 7.6 on the Richter scale struck the eastern coast of Philippines on Friday at 12:47:34 UTC (18:17:34 IST), followed by two aftershocks measuring 5.1 and 5.3 on the Richter scale, according to United States Geological Survey (USGS).
It is reported that at least a woman aged around 60 was killed and some bridges and roads were damaged by the quake, forcing the people to flee to higher grounds fearing tsunami.
"The August 31, 2012 M 7.6 earthquake off the east coast of the Philippines occurred as a result of reverse faulting within the oceanic lithosphere of the Philippines Sea plate. The preliminary location of the earthquake indicates this is an intraplate event, 50 or more kilometers to the east of the subduction zone plate boundary between the Philippine Sea and Sunda plates. At the latitude of the earthquake, the Philippine Sea plate moves west-northwest at a velocity of approximately 100 mm/yr," reported USGS.
The region is prone to earthquakes. More than 200,000 people in Indian Ocean countries were killed in a tsunami off Indonesia that was triggered by a strong earthquake. Another earthquake and tsunami that hit Japan last year killed about 20,000 people.