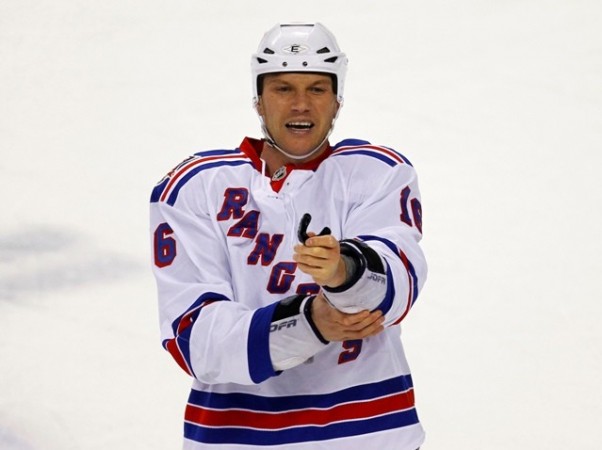 Fans of "Dancing with the Stars" were shocked by the double elimination in the second week that saw two contestants and their partners leaving the show. But now it has been reported that Sean Avery's elimination was a retaliatory step against the athlete, who had a blow up with the show's executive producer.
Reports have it that Avery had a disagreement with producer Conrad Green about a video package the portrayed the former Rangers star in bad light. The video in question showed the player referring to his ex-girlfriend, actress Elisha Cuthbert, as sloppy seconds.
"Sean getting the boot from the show was purely political and it stemmed from him being upset about a video package introducing his dance in which they portrayed him as a bad boy/playboy," an insider revealed to Radar Online.
"Sean called the EP, Conrad Green, and told him to go f**k himself and then hung up," the source said, adding that the judges intentionally gave him low scores so that he would get eliminated.
But ABC denied that the double elimination was brought to give Avery the boot. In a statement to the media, the network noted that the eliminations were planned in advance and producers have no say in deciding who gets voted off. It is decided by combing scores given by judges and public voting.
Avery and his partner Karina Smirnoff's first week performance garnered a score of 20, and fans had already predicted that his stint on the show was going to be short.
But Avery believes that it was his tiff with Green that led to him getting the boot.
"I think we knew as of probably Monday last week that our fate was sealed," he said on Good Morning America. "I had a conversation with Conrad, one of the producers, and I was upset at the package that they had brought in the week previous, and it was a very tacky attempt to show me as the bad boy of DWTS. And I think in reality TV or some sort of competition, if you have a disagreement with the producers, then generally that seals your fate quite early."
Meanwhile, the Radar Online source believes that the show producers are planning to bring back Smirnoff, as she is a fan favorite. Smirnoff is expected to serve as a guest judge for the rest of the season.