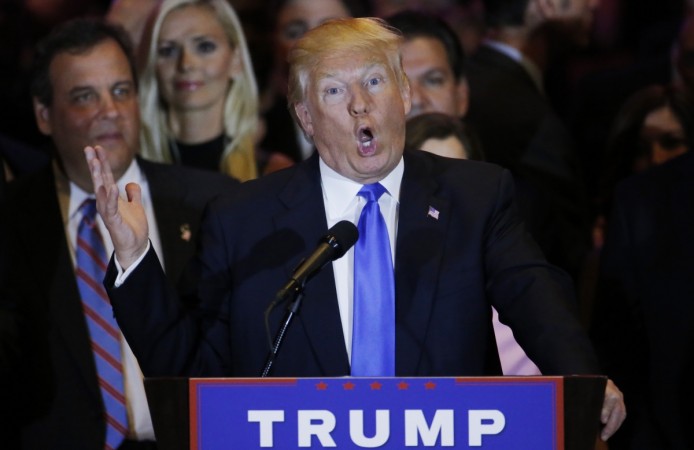 Republican presidential candidate Donald Trump won primaries in five states in northeast United States on Tuesday, widening his lead over rivals Ted Cruz and John Kasich and declaring himself as the party's "presumptive nominee." Democratic Hillary Clinton also registered victories in four states, bringing her nearly in reach of the presidential nomination.
Trump continued with his trademark verbal attacks at his party rivals, claiming that the race was "over," as well as against Clinton, arguing that the former secretary of state was winning votes because she is a woman.
'If Hillary Clinton were a man, I don't think she'd get 5%," Trump said, according to reports. "I think the only card she has is the woman's card. It's the only thing she's got going," he said.
According to the Associated Press, even if Clinton loses the remaining primaries, she is still cinched to win her party's nomination. She hit back at Trump's criticism saying, "If fighting for women's healthcare and paid family leave and equal pay is playing the woman card, then deal me in," according to Reuters.
Trump's wins in Pennsylvania, Maryland, Connecticut, Rhode Island and Delaware helped him secure 77 percent of the delegates he needs to win the nomination. "It's over. As far as I'm concerned it's over," he declared, while attacking the anti-Trump alliance of Cruz and Kasich.
On the Democratic side, Vermont Senator Bernie Sanders vowed to continue the fight till the end. He was projected to have won in Rhode Island, but lost to Clinton in Maryland, Delaware, Connecticut and Pennsylvania.
"The reason that we are generating this enthusiasm is because we are doing something very unusual in contemporary politics. We are telling the truth," Sanders reportedly said in West Virginia.