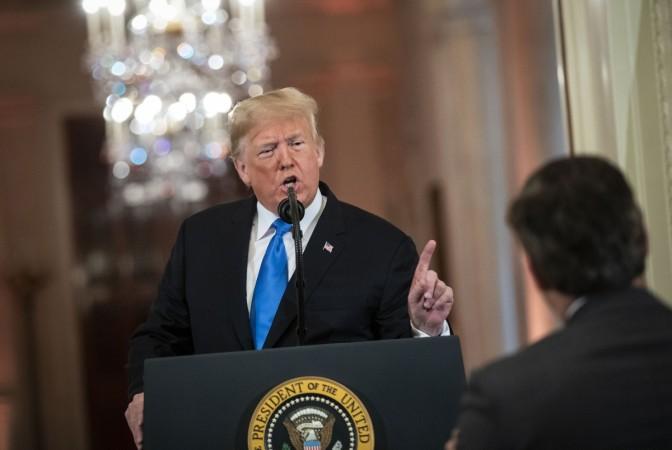 Even though United States president Donald Trump believes that the Republicans witnessed "tremendous success" in the mid-term elections, losing the House to the Democrats doesn't seem to have gone down too well with him. Hours after the results, Trump fired attorney general Jeff Sessions and then went on to quarrel with CNN correspondent Jim Acosta.
In an afternoon press briefing on Wednesday, November 7, Trump lashed out at journalists calling their reports "fake news" and labelling one of the questions "racist."
When Acosta questioned Trump on the Central American migrant caravan, and asked him why he called it "an invasion," the president told the CNN reporter to let him run the country and focus on his work.
"I think you should let me run the country, you run CNN and if you did it well, your ratings would be much better," the Washington Post quoted Trump as telling Acosta. When the reporter further asked the president about the Russia investigation, Trump retorted: "That's enough. That's enough. That's enough. That's enough," and asked him to "put down the mic."
The president then lashed out at Acosta thus: "CNN should be ashamed of itself having you working for them. You are a rude, terrible person. You shouldn't be working for CNN. ... You're a very rude person. The way you treat Sarah Huckabee is horrible. And the way you treat other people are horrible. You shouldn't treat people that way."
While NBC News reporter Peter Alexander came to Acosta's rescue, telling Trump that the CNN correspondent was a "diligent reporter," the president didn't take it too kindly and shouted: "Well, I'm not a big fan of yours, either."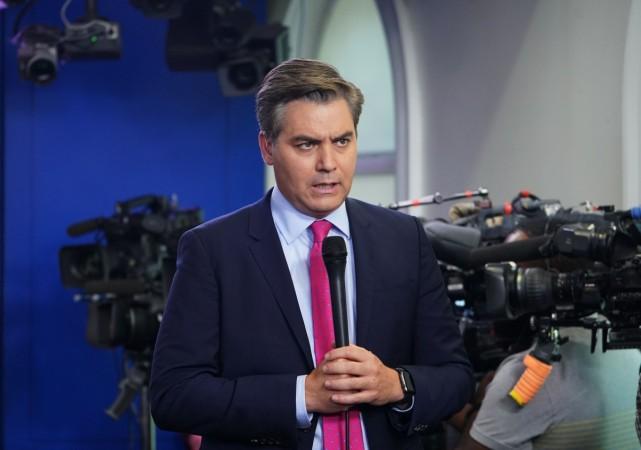 And if that wasn't enough, Trump later also quarrelled with PBS Newshour's White House correspondent Yamiche Alcindor when she said that the president called himself a "nationalist" and asked if this was in support of white nationalists.
"I don't know why you'd say that — that's such a racist question," Trump told Alcindor, who is black. "Why do I have my highest poll numbers ever with African Americans? Why do I have among the highest poll numbers with African Americans? I mean, why do I have my highest poll numbers?"
White House suspends Acosta's press badge
After the briefing and the clash, the White House said that it had suspended Acosta's press badge and Sarah Huckabee Sanders, the White House press secretary, said that the decision was made due to the CNN correspondent's behaviour and the fact that he had yanked back when a White House intern tried to take his microphone away.
"President Trump believes in a free press and expects and welcomes tough questions of him and his Administration," Sanders said. "We will, however, never tolerate a reporter placing his hands on a young woman just trying to do her job as a White House intern."
Calling Acosta's conduct completely unacceptable, she went on to add: "As a result of today's incident, the White House is suspending the hard pass of the reporter involved until further notice."
Many Trump supporters have also called for a revocation of the reporter's press badge.
What does Acosta have to say?
After the incident, Acosta took to Twitter and posted a video of the Secret Service asking him to hand over his credentials outside the White House.
"It was a pretty surreal experience," Acosta then said on CNN. "I never thought in this country that I wouldn't be able to go and cover the President of the United States simply because I was trying to ask him a question."
On Twitter, also thanked Alexander for standing by him.
CNN backs Acosta
Meanwhile, CNN has said that it stands behind Acosta and that Trump's attacks on the press "have gone too far."
"They are not only dangerous, they are disturbingly un-American," the network said in a statement. "While President Trump has made it clear he does not respect a free press, he has a sworn obligation to protect it. A free press is vital to democracy, and we stand behind Jim Acosta and his fellow journalists everywhere."