United States President Donald Trump arrived in Japan on Sunday in his first official Asia visit in an attempt to defend his tough rhetoric against North Korea and its nuclear tests. The Republican said that discussions on Pyongyang are on his main agenda during talks with other Asian leaders.
Trump, during his visit to Japan, aims to present a consolidated front with Japan against North Korea by holding meetings with Japanese Prime Minister Shinzo Abe amidst increased tensions between the nations and Pyongyang.
North Korea has continued to test nuclear weapons and ballistic missiles, despite several sanctions imposed on the country by the United Nations. Pyongyang, in its effort to become a nuclear power, has cornered itself to isolation, as most nations across the world are against North's nuclear aspirations.
Trump, while speaking to reporters aboard Air Force One en route to Asia, said that a decision would be made soon whether to add North Korea to a list of state sponsors of terrorism. The Republican billionaire had termed the previous US administration's efforts to deal with the issue as "total weakness", and said that his administration planned to take a different approach.
"We want to get it solved. It's a big problem for our country and the world, and we want to get it solved," Trump said.
"And there's been 25 years of total weakness and so we're taking a very much different approach," Trump added. He, however, did not provide any details on the kind of different approach his administration plans to take.
Tensions between the US and North Korea have escalated as the leaders of the two countries have been locked in a bitter war of words over Pyongyang's ambitious nuclear programme.
The situation worsened when Trump, during his first address to the United Nations General Assembly (UNGA), vowed to annihilate North Korea if it posed any threat to the US and its allies, and called the Pyongyang leader "rocket man" on a suicide mission.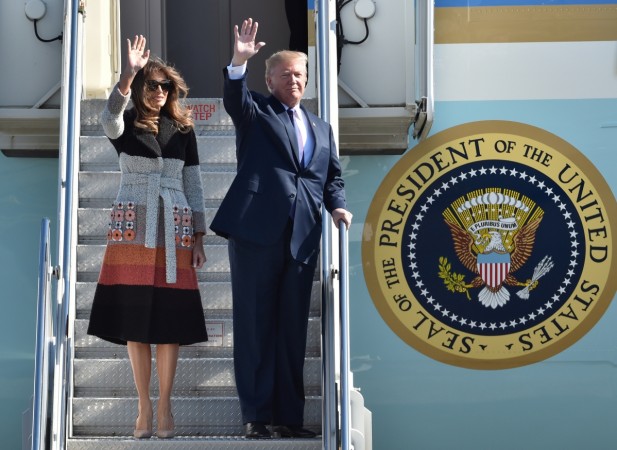 The US President also said that he plans to meet the Russian President Vladimir Putin during his trip.
"I think it's expected that we will meet," he said. "We want Putin's help on North Korea."
Trump is expected to seek a united front with Japan and South Korea against North Korea. After his visit to these countries, he is set to visit China where he will make the case to Chinese President Xi Jinping that he should do more to rein in Pyongyang.
North Korea recently launched two ballistic missiles over Japan and conducted its sixth and the most powerful nuclear test last month. The nation aims to develop a nuclear-tipped missile capable of hitting the US mainland.