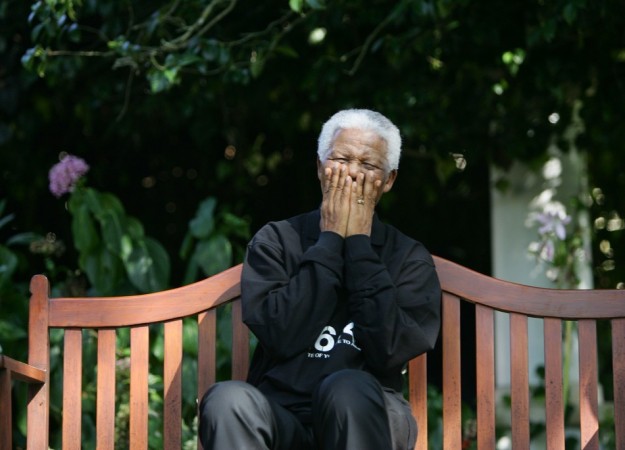 Nelson Mandela was one of the only two non-Indians to be awarded with the Bharat Ratna, the country's highest civilian award. He was in all respect a "true Gandhian" as pointed out by PM Manmohan Singh. But these are not just the reasons why his death has echoed a sense of great loss in India too, for much can be said about the great leader's true Indian connection.
An overwhelming sense of anguish engulfed the minds of social thinkers, patriots, activists, politicians and celebrities alike, when the news of Mandela's death broke out. PM's short yet effective condolence message that first appeared on twitter through his office left Indians with much to think about.
"A giant among men has passed away. This is as much India's loss as South Africa's. He was a true Gandhian. His life and work will remain a source of eternal inspiration for generations to come. I join all those who are praying for his soul," Singh wrote.
In an incident of rare occurrence, the Rajya Sabha was adjourned on Friday as a mark of respect for Nelson Mandela. A house in India being adjourned for the death of a foreign national would be a surprise for many but it speaks volumes of how much he is revered in India. Why would a non-Indian's death connect to the collective emotions of Indians?
It was only months after he was released from his painful 27 years of imprisonment in 1990, that he chose to make India his first destination to visit. Soon after he became the President of South Africa he introduced into his cabinet, six people of Indian origin. Many people who were jailed along with Mandela were South Africans of Indian origin who fought relentlessly alongside the legend against apartheid.
When former Indian President, APJ Abdul Kalam met Mandela on his visit to South Africa in 2004, it was a day that signified deep realization of comradeship and tie that the two countries shared. Kalam visited the dreaded cell where Mandela was imprisoned for a good part of his life and remarked that it was the most important and "best part of his visit to South Africa."
For his humble and unassuming character and a charm of fortitude and strength, Mandela is quite often compared to Mahatma Gandhi, although Mandela would call himself a "man of many weaknesses" in comparison to Gandhi.
In a remark he made during his visit in Ahmadabad in 1995, he said: "I could never reach the standard of morality, simplicity and love for the poor set by the Mahatma...While Gandhi was a human without weaknesses, I am a man of many weaknesses."
The Indian government also gave him the International Gandhi Peace price in 2001.