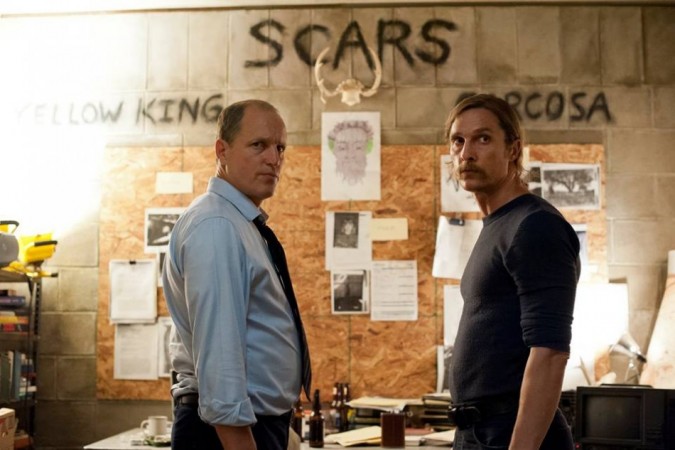 Since the beginning of the season "True Detective" fans have been speculating and theorizing on how the series would end. And what no one would have imagined was a happy ending for a show that primarily focused on psycho serial killers.
On Sunday, when the first season of the series came to a close with the episode "Form and Void", fans of Rust Cohle (Matthew McConaughey) and Marty Hart (Woody Harrelson) heaved a sigh of relief, when the detectives found the killer. Speculations were rife that Rust would turn out to be the killer and fans were glad when the actual culprit was found.
While many expected earth-shattering revelations, the show had a simple ending that followed the belief of light always winning over darkness.
"Once there was only dark," Rust says in the end. "You ask me, light's winning."
So who was the serial killer that troubled the detectives for nearly two decades? The man with scars on his face - Errol William Childress.
But it took some time for the detectives to track Errol to his home, which looks more or less like a hoarder's paradise that he shared with his decaying father and his girlfriend/half-sister.
While chasing Errol through a passageway filled with sticks, skeletons and graffiti, both Rust and Marty are stabbed. But before Errol could finish them off, Rust shoots him in the head and kills him.
Both detectives are soon rushed to the hospital and at one point Rust even falls into a coma. But both men survive in the end.
Rust is unhappy that they could not find all the culprits but Marty explains: "We ain't gonna get them all. That ain't the kind of world it is. But we got ours."
Rust also tells Marty that he had a vision of his daughter and all his dead ones, and added that he wish he had not survived.
"I shouldn't even f---ing be here," Rust says and added that he "knew my daughter was waiting for me. I could feel her. I was part of everything I ever loved."
Meanwhile, fans of the show have taken to Twitter to praise the hour-long drama.
Check out some of the tweets below.
True Detective is so good that I'm not even upset it is over, just happy to have been on the journey. Not a bad lesson. #lightiswinning

— Claire Kislinger (@ClaireWinter) March 10, 2014
I can now say that True Detective had the best first season of any show I've ever seen... — Mario Lopez (@MarioLopezExtra) March 10, 2014
honestly True Detective season finale was OUTTA THIS WHIRL....no joke the best show (+ acting + writing) i've seen in a loooong time — Michael Mancuso (@wirrycowe) March 10, 2014
We are living in a golden age of television. If you need evidence, look no further than True Detective. Incredible first season. — James Brosher (@jamesbrosher) March 10, 2014
(Edited by Vishnuprasad S Pillai)