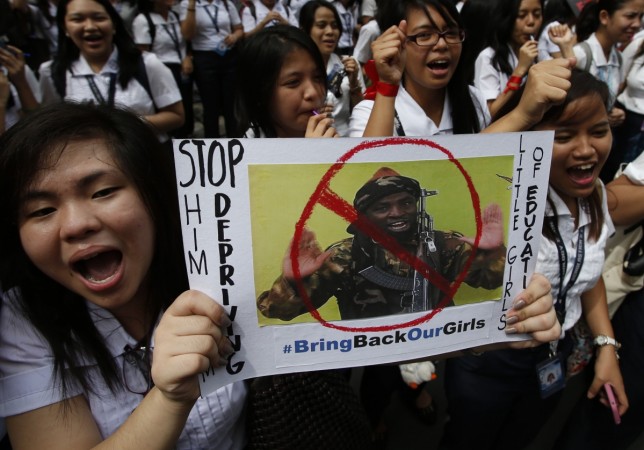 A few days after promising the release of the more than 200 schoolgirls abducted from Chibok, Boko Haram militants have reportedly kidnapped another 40 women in the Adamawa State.
The mass kidnapping took place on Sunday during an attack carried out by Boko Haram in the northern village of Wagga, local reports revealed.
The militants also killed dozens of people in the towns of Damboa and Sabon Gida, and the Shaffa village in Borno State.
The abduction has raised doubts on the alleged ceasefire that the Nigerian government claimed it had reached with the Islamist terror group on 17 October.
The fresh violence in northern Nigeria also seems to have dashed all hopes of a ceasefire, fuelling fear that Boko Haram might backtrack on their decision to release the 200 schoolgirls it kidnapped in Chibok back in April.
Enoch Mark, whose daughter and niece are among the missing Chibok girls, confirmed the recent abduction in Wagga.
After Nigerian Air Chief Marshal Alex Badeh announced the ceasefire with the insurgents, Boko Haram seems to have stepped up the attacks on Nigerian communities, reported The News Nigeria.
A report by Deutsche Welle raised doubts on the crebility of the Nigerian government itself.
"The Nigerian government has not been too credible in the past," Yemisi Ransome-Kuti, activist and founder of the Nigeria Network of Non-Governmental Organizations, told DW.
"We hope they are saying something that is correct and that will happen. We are crossing our fingers, but until we see the girls we will not believe anything," she added.
According to the Nigerian daily "The Punch", Boko Haram has split into two factions; one is a radical and uncompromising wing, while the other is prepared to negotiate. The report stated that the deal was only struck with the group that was willing to talk. This would suggest that a genuine ceasefire is still a long way off. (via All Africa)
Another theory is that the alleged ceasefire was not confirmed as Boko Haram leader Abubakar Shekau did not release any official statement regarding the truce.
"The leader is the only person they respect and listen to," civil rights activist Shehu Sani, who was involved in the past negotiations with the terrorists, told Nigeria's Premium Times.
"Any statement that is not coming from the leader of the group cannot be said to be credible and will not be complied with by the group member."
Boko Haram, which is strongly against westernisation of Nigeria, had declared an Islamic caliphate in Gwoza, along the Cameroon border, in August. The group had stated that it wants to establish a kingdom governed by Sharia law in Nigeria, very similar to what the Islamic State militants are trying to achieve in Syria and Iraq.