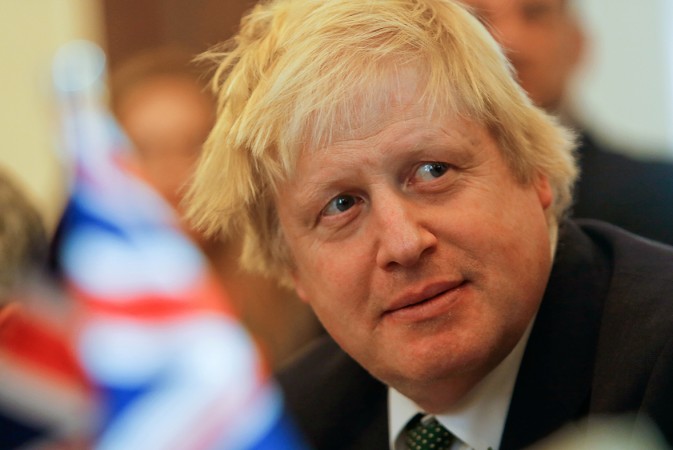 Intensifying 'trousergate', British politician and Foreign Secretary Boris Johnson on Tuesday made a joke at the United Kingdom Prime Minister Theresa May saying that she wears leaderhosen, in reference to May having worn a £995 brown leather pants.
For those who do not know, leaderhosen are knee-length breeches made of leather typically worn by Germans as a traditional attire. Johnson poked fun at May after she was photographed for a Sunday Times magazine feature wearing the expensive leather pants by Amanda Wakeley.
Johnson, who has been facing constant criticism from May and chancellor Philip Hammond over recent weeks, took the opportunity of 'trousergate' to have fun at the expense of British prime minister at London's Lancaster House during a diplomatic reception.
While talking about the close trade ties between the United Kingdom and the European Union (EU), Johnson jokingly added that "Our wonderful PM actually wears lederhosen."
He also joked about the UK Independence Party (UKIP) leader Nigel Farage's close relationship with the United States President-elect Donald Trump and said that he wanted to "export" Farage to America since Trump wanted him as the next UK ambassador to the US.
Soon after May sported the expensive leather pants on the magazine, a row arose in Britain termed as 'trousergate' by the media as to whether May was right in wearing leather trousers which were priced at almost £1,000 for a photo shoot. Johnson did not limit the opportunity to stir 'trousergate' and, in a speech to over 200 journalists and ambassadors, questioned May's decision of sporting the expensive trousers.
"I would say to the great ambassadors and high commissioners here tonight, that when you come to write your truthful and accurate diptels [diplomatic telegrams], I hope you will recall some of the enthusiasm and confidence of this new government. We managed to export Nigel Farage to America, but not in a diplomatic fashion," Johnson said.
"We are so cosmopolitan that we drink more champagne, buy more German cars than anyone else and our wonderful Prime Minister wears lederhosen," he added.