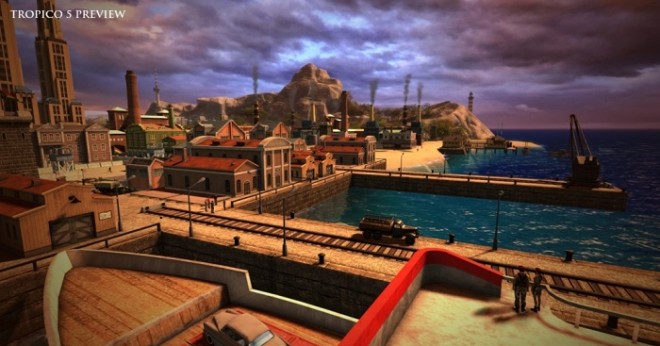 Simulation game, Tropico 5 from developer Haemimont Games and publisher Kalypso Media have announced that its new update 1.03 has gone live.
The new update will be adding three new maps - Tucan, Dos Rios, Santa Teresa, new costumes and fixes issues.
The game follows the Tropico series where players will be involved in city building simulation. This game will also feature cooperative or competitive multiplayer, for up to four players, this is the first time these features have been introduced since the roll out of the first game in 2001. Tropico 5 is the fight installment of the series.
Tropico 5 will feature different eras like the colonial era, World Wars, Great Depression and Cold War. Players will be able to research and renovate their buildings and resources. The game adds advanced trade system and trade fleet that will allow the ships of players to follow a secure trade route and conduct import and export of goods. This game will also allow players to explore their islands and might find valuable resources.
Tropico 5's first downloadable content (DLC) The Big Cheese, will be available for free. The DLC can be downloaded automatically once the game becomes available, reported SegmentNext.
The game has sold more than 100,000 units, said Kalypso Media on 4 June. It also added that it was the "most successful launch" of the series. "We are very pleased that the latest title in the Tropico series has been enthusiastically received worldwide by both the fans and the press," said Simon Hellwig, managing director at Kalypso in a statement.
However, the reviews were mixed with Polygon saying that the game "entirely lacks compassion that it made me feel like a bully... [It] fails to reconcile that conflict in a mature way, missing its shot at changing the series from a thoughtless getaway to a memorable, meaningful trip."
The game was released for PC on 23 May and is expected to release on Xbox360, Mac, Linux and PlayStation 4 sometime in 2014.
Below are the full patch notes of update 1.03 for Tropico 5 (Tropico 5 forum):
Added 3 new maps: Isla de Tucan, Dos Rios, Santa Teresa
-Added 6 new dynasty member costumes: Angel (female), Devil (female), Steampunk (female), Uncle Pedro (male), Napoleon (male), Steampunk (male)
Multiplayer: Game checks for modified user files before launch
Fixed issue with trade route contracts expiring
Fixed issue with performance of service buildings
Fixed issue with rebuild construction feature not working properly
Fixed indestructible trees left in the vicinity of a destroyed logging camp
(YouTube Courtesy: Kalypso Media)