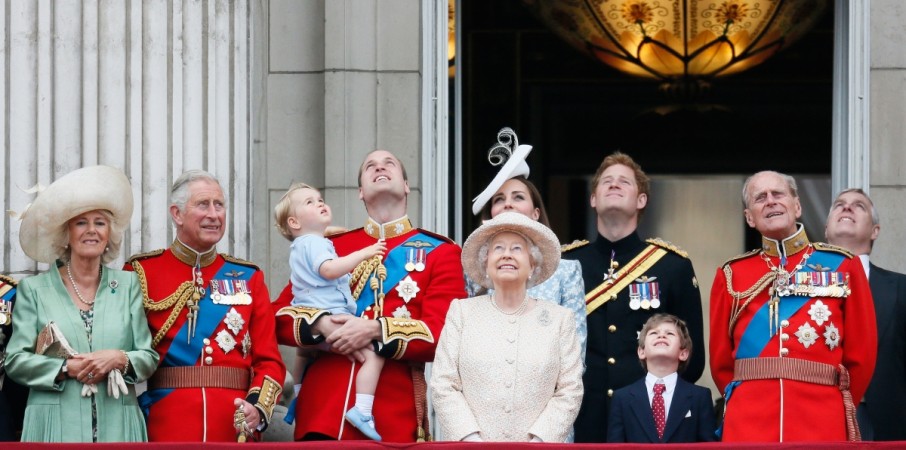 All the royals of the British monarchy attended the official birthday of Queen Elizabeth II, joining the annual Trooping the Colour parade in central London on Saturday, 13 June in the two hour-long event that started at 10:30 am.
All You Need to Know About Trooping the Colour
Updates:
More than 1,000 soldiers took part in the grand parade near St James' Park on Saturday during the event, which saw the presence of Prince Charles, Prince Willaim, Prince Harry, Kate Middleton, Camilla Parker, among many other royals.
While Prince Charles and Prince William came on horses, royal ladies Middleton and Parker came in a horse-drawn carriage with Prince Harry.
Trooping the Colour 2015 photos
However, due to bad weather conditions, the Royal Air Force decided to fly helicopters and Red Arrows only over Buckingham Palace for the flypast.
#Flypast update: bad weather means only our helicopters & @rafredarrows will fly over Buckingham Palace for #QBF

— Royal Air Force (@RoyalAirForceUK) June 13, 2015
Queen Elizabeth II
It was the 63rd time the Queen was attending the Trooping of Colour. The official Twitter handle of the British monarchy posted the photo of the Queen's first Trooping the Colour parade in 1947.
The Queen took part in her first #TroopingTheColour parade as Princess Elizabeth in 1947. pic.twitter.com/G1yIaKBXG7 — BritishMonarchy (@BritishMonarchy) June 13, 2015
Kate Middleton
The event was the first official appearance of Middleton, after delivering Princess Charlotte on 2 May. Middleton looked classic in a Catherine Walker's "Astrid" floral, light blue coat with a white Lock & Co's Marisabel hat.
Princess Charlotte
Baby Princess Charlotte missed the first official event after her birth.
Prince George
During the procession, Prince George stole the show, enjoying the pageantry from a window of the Buckingham Palace. Later, during the flypast, he was seen with his father Prince William.
Prince George's First Trooping The Colour Appearance Reminds us of Little Prince Harry, Prince William [PHOTOS]
A gorgeous picture of Prince George at the window of Buckingham Palace on Her Majesty The Queen birthday #Trooping pic.twitter.com/dU88CkM7kV

— Chris Grigg (@Chris_Grigg1987) June 13, 2015
#TroopingTheColour Awww Gourgeous George loves the Red arrows @RAFRed1@RAFRed10@RAFRed4@RAFRed7@rafredarrowspic.twitter.com/gNEOsgfVcq — Tina Leggitt (@tinaleggitt) June 13, 2015
Check out more photos of the event below:
The Prince of Wales,The Duke of Cambridge & The Princess Royal accompanied HM on horseback #TroopingTheColour pic.twitter.com/leDI3guHyW

— BritishMonarchy (@BritishMonarchy) June 13, 2015
The Troops on Parade at Horse Guards have received The Queen with a Royal Salute #TroopingTheColour pic.twitter.com/JOQq4ylVyM — BritishMonarchy (@BritishMonarchy) June 13, 2015
Her Majesty remains in the carriage on arrival @QBP2015 @BritishMonarchy @BritishArmy @Householddiv @theroyalparks pic.twitter.com/Klfzjm2nwt

— The Army in London (@ArmyInLondon) June 13, 2015
The Life Guards Horses @QBP2015 enjoying the parade. Hope you are too! @BritishArmy @DefenceHQ @HCavMuseum pic.twitter.com/Q6aOetL64Q — The Army in London (@ArmyInLondon) June 13, 2015
Fab @rafredarrows from Trafalgar sq for Trooping the Colour 2015 #London pic.twitter.com/0CdfOmh0MB

— Clare (@CroxleyClare) June 13, 2015
.@rafredarrows fly past over Horseguards and St James's Park #QBF pic.twitter.com/ZFNKITSKDS — Paul Jordan (@paulj71) June 13, 2015
Lincolnshire's @rafredarrows over Buckingham Palace #qbf #TroopingTheColour pic.twitter.com/V9rfuovkbL

— Property Echo (@PropertyEcho) June 13, 2015
The Colours of the Welsh Guards are carried (or 'trooped') down the ranks this morning at #TroopingTheColour pic.twitter.com/fqcIJmH5MR — BritishMonarchy (@BritishMonarchy) June 13, 2015