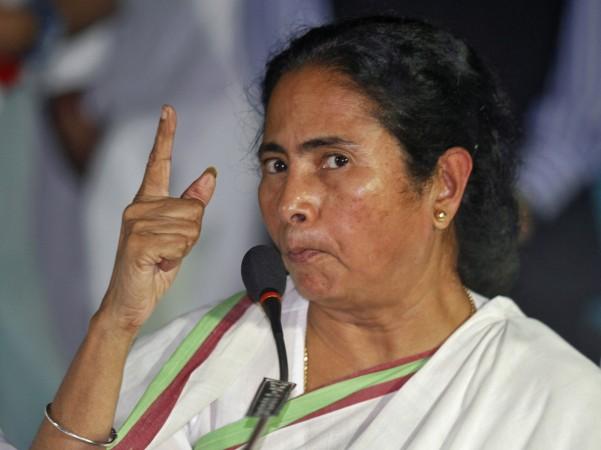 Trinamool Congress MP Srinjoy Bose was Saturday sent to CBI custody for his alleged complicity in the Saradha scam, as West Bengal Chief Minister Mamata Banerjee lashed out at the central government for its "divisive politics" and dared it to impose President's rule in the state.
Banerjee, also the Trinamool chief, said she would not be cowed down by the intimidating tactics of the Bharatiya Janata Party (BJP) led government but would retaliate.
She questioning the Central Bureau of Investigation's (CBI) credibility and called for its reconstitution.
Even as Banerjee hit out at the central government and the CBI, Governor K.N. Tripathi justified Bose's arrest, saying the probe agency "must have reasons" to do so.
Addressing party activists here, Banerjee said: "Just because I went to Delhi to attend a conclave of secular parties, they took revenge by arresting our MP."
Ridiculing Prime Minister Narendra Modi's "frequent foreign visits", she said "the man in charge of the nation... how much time has he spent in India? People who have several cases of rioting against them, how can they point fingers at us?"
"If we are hit, we will hit back. Don't show us red eyes. We are not dependent on you.
"We are not slaves of power. We are not weak. We will pay them back politically for every action. They can impose Article 356 if they want," the chief minister said, referring to the article that deals with failure of the constitutional machinery of the state, which leads to President's rule.
"Other political leaders like (Congress president) Sonia Gandhi are silent because they are afraid. However, you cannot keep me silent. I fear no one. I cannot be silenced," she said, announcing that her party would hold a rally in the city Nov 24 against the central government's "conspiracy against Trinamool".
Questioning the integrity of the CBI, which Friday arrested Bose, Banerjee said: "About the CBI, I don't have to say anything, the Supreme Court has already said enough about its credibility."
"Our fight against political vendetta has started. They have attacked us, we will reply politically. They want to silence all voices of dissent. They are afraid of me, hence engaging in conspiracies," she added.
Tripathi, who earlier had called for allowing the CBI to work independently, justified Bose's arrest but refused to comment on whether the CBI was working under influence.
"The agency (CBI) which has arrested him must have good reasons to do it. Therefore, it will be premature for me to comment on that," Tripathi said on the sidelines of an event.
Later, at another programme, he added: "Ask the CBI whether it is working under anybody's pressure or is it working independently. I am not here to answer on behalf of the CBI."
"Ask the CBI... they will tell you. I am not CBI," he added.
Meanwhile, Bose - arrested for his prima facie involvement in the Saradha scam on allegations of criminal conspiracy, misappropriation of funds and deriving undue financial benefits - was Saturday presented before a city court which denied him bail and sent him to CBI custody till Nov 26.
Contending that his arrest was "illegal", Bose's counsel pressed for bail, but after hearing the defence and the prosecution, the court sent him to custody of the CBI.