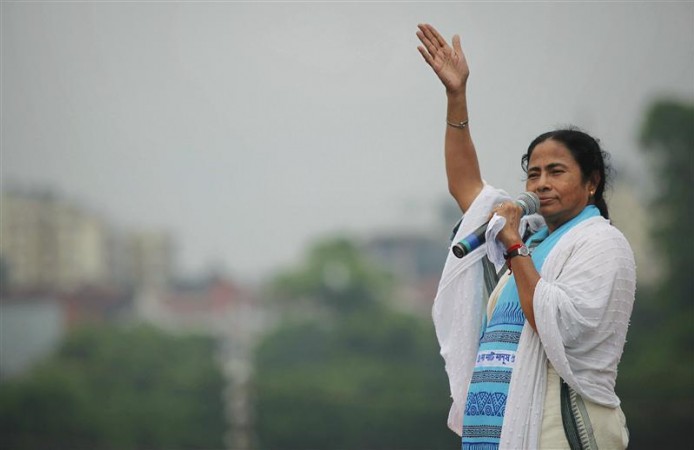 West Bengal Chief Minister Mamata Banerjee, on Friday, said that her party, Trinamool Congress, is not adverse to the option of a tie-up with the Communist Party of India-Marxist (CPI(M)), in order to defeat the growing Bharatiya Janata Party (BJP) tide in the state.
"If somebody comes forward to talk, we will talk," Banerjee said. "In democracy, one should never close the door on talks. In the modern world, one cannot close options. One has to consider which option is pro-people, pro-peace and pro-development," she added.
The West Bengal CM drew comparisons between the tie-up, in Bihar, between Rashtriya Janata Dal (RJD) and Janata Dal United (JDU), and congratulated their respective leaders, Lalu Prasad Yadav and Nitish Kumar for trying to become a joint force to defeat the BJP in the state.
"In our state, if the same situation develops, we think, nobody is untouchable," said Banerjee to Kolkata based Bengali news channel Chobbis Ghanta.
However, CPI(M) leader Mohammed Salim believes that the CM should first spot what situation her own party is in, and then think about any possible tie-ups.
BJP's Rahul Sinha also criticised the CM on her indication of a possible tie-up with longstanding foes, CPI(M). Sinha believes that she is now looking for an escape route through a tie-up only because she is under tremendous pressure.
When directly questioned if her party would tie-up with the Leftists, Banerjee said, "I have not said that. But if any such proposal comes, we will consider. We have to discuss within my party."
Banerjee also went on to say that she does not mind being called a "leftist". She believes that there are a lot of "good people" in their ranks.
The BJP has been trying very hard to gain a proper foothold in West Bengal, a state where only TMC and CPI(M) have ruled the roost for years. However, Banerjee does not believe that the BJP has garnered much support in the state.
The BJP had a single seat in West Bengal in the 2009 Lok Sabha Elections. In 2014, they won one more seat. Banerjee believes that the BJP are overplaying this victory of an extra seat. She does not believe that it is an indication that they are gaining more power in the state.