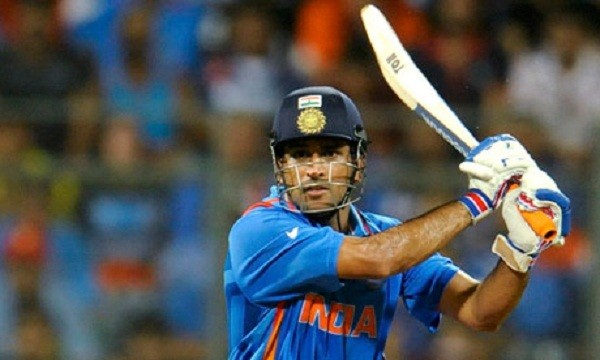 Is there anything this man can't do, and has there ever been a better finisher in the ODI format?
MS Dhoni, with ice beyond imagination in his veins, pulled that proverbial rabbit out of the hat yet again, smashing the 15 runs which were required off the final over on a difficult pitch for the batsmen, to pull India to yet another triumph at the Queen's Park Oval.
Needing 202 from 50 overs to win the tri-series, after Sri Lanka scratched their way to 201 all out in 48.5 overs, India were in desperate trouble on 182 for nine, with No.11 Ishant Sharma hopping around like a nervous boy on his first day in school.
At the other end, was the man who seems to defy the meaning and understanding of pressure, and yet again, for a time beyond the realms of counting, Dhoni (45 not out, 52b, 5x4, 2x6) stepped up to the plate, swung that big willow of his at the right deliveries - this time the second, third and fourth balls of the final over from the unfortunate Shaminda Eranga - to take his side to their second title in as many tournaments.
And just to add to the magnitude of the achievement of the brilliant Indian skipper - Dhoni was not fully fit, with that hamstring of his which had initially ruled him out of the rest of the tri-series, causing him problems and curtailing his running to a large extent.
But when your name is MS Dhoni, all of those issues are just minor hiccups really, because when it comes to crunch time, there is no-one better.
India really did make hard weather of the target, albeit on a difficult pitch with the bowlers very much on top of the batsmen right throughout the match.
Rohit Sharma (58, 89b, 5x4, 1x6) was again the man to hold up one end, with the right-hander, who has shown Test match temperament throughout this series, posting yet another half-century to help his side creep ever closer to the total.
For Rohit's opening partner Shikhar Dhawan - the man of the tournament at the ICC Champions Trophy -- though, it has been a bit of a forgettable series and the elegant left-hander was dismissed relatively early by a brilliant delivery from Eranga.
Virat Kohli only lasted a couple of overs before finding an edge off Eranga, before Rohit and Dinesh Karthik took India to 77 for two.
The 23rd over, however, saw Karthik's demise, with left-arm spinner Rangana Herath picking up the first of his four wickets.
Rohit and Suresh Raina built a decent 62-run partnership and India seemed to be cruising towards the target, needing just 63 runs from 19 overs.
However, Rohit's wicket - bowled by Herath - brought on a mini-collapse with India going from 139 for three to 152 for seven.
Bhuvneshwar Kumar and R Vinay Kumar fell in the 42nd and 47th overs respectively, leaving India - read Dhoni - needing 20 from 22 balls.
Ishant, in his attempt to give Dhoni the strike, went for a couple of suicidal singles - immediately feeling the wrath of his skipper - as Sri Lanka tightened the noose.
However, with Lasith Malinga and Angelo Mathews bowling the 48th and 49th overs respectively, Dhoni knew there would be a relatively inexperienced bowler on view in the final one.
Eranga, who until then had pretty good figures of 9-2-34-2, was given the unenviable job, and you could almost see a smile curl up Dhoni's face at the prospect.
The first ball came to nought with Dhoni missing a full-length delivery outside off. If Eranga thought he might just get through this somehow, he was in for a rude awakening. The second delivery was also wide and full, but this time Dhoni connected, and how, smashing it straight over the bowler's head with the ball landing on the top of the roof.
Eranga was nervous now and Dhoni, the apex predator in the final overs, was poised for the kill. A slap over point for four and then another over extra cover for six ended Sri Lanka's chances and with it giving India a stunning victory.
Earlier, a big 122-run partnership for the third wicket from Kumar Sangakkara (71, 100b, 6x4, 1x6) and Lahiru Thirimanne (46, 72b, 4x4) gave Sri Lanka a brilliant platform for a big score, but once Thirimanne - to Ishant Sharma - and Sangakkara - to R Ashwin (two for 42) - got out, Sri Lanka crumbled.
From 171 for two in a little over 37 overs, Sri Lanka crashed to 201 all out as Ravindra Jadeja came to the fore with the ball yet again, picking up four wickets for just 23 runs.
The total seemed to be well within India's reach, before their own collapse made it quite a contest.
Well, it's never a contest really, not when Dhoni is in that mood,