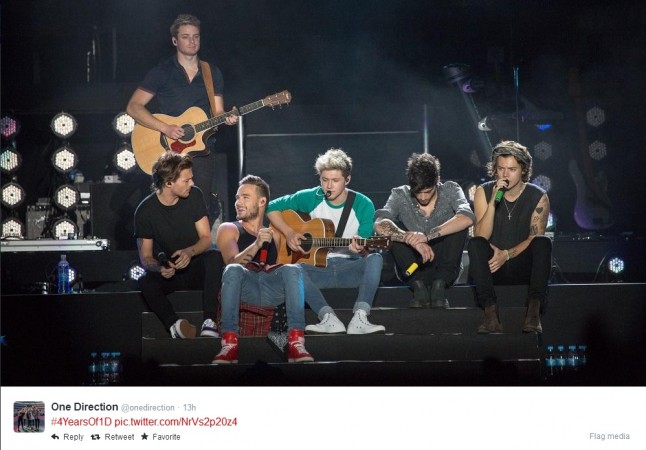 The world has been celebrating the fourth birthday (23 July) of the omnipresent boy band "One Direction" in style, complete with a trending #4YearsOf1D.
Niall Horan, Zayn Malik, Liam Payne, Harry Styles and Louis Tomlinson, who were just five strangers vying for the chance to show their "X Factor" in UK four years back, are now responsible for the shrieking, screaming and tearing up of millions of fans across the world.
They signed with Simon Cowell's record label Syco Records after finishing third in the seventh series of the British televised singing competition "The X Factor" in 2010. It was Cowell's suggestion that they move on in the competition as group, after they failed to progress to the "boys" category at the "Judge's house".
"When the decision came for us to move into a group, it was pretty simple," Harry quipped during an interview with VeVo. "Since the show started we have just gotten closer and closer."
To celebrate #4YearsOf1D, MTV's UK team tweeted a photo the boys took four years back while at their head quarters.
To celebrate #4YearsOfOneDirection here's a photo that the boys took on one of our iMacs here at MTV HQ 4 years ago!! pic.twitter.com/Cdf5ekaJ6f

— MTV Music (@MTVMusicUK) July 23, 2014
Some of the fans got so emotional about the significance of the day that they wrote poems, made collages and came up with many witty ways to express their love.
#4YearsOf1D :'( ♥ pic.twitter.com/lnzGNUQeue — Heidi Styles (@HeidiVital) July 24, 2014
Great things happen to those who don't expect it. #4YearsOf1D pic.twitter.com/ZFk1HfdkLu

— 1DAF (@narry_colada) July 24, 2014
"I've always wanted a little brother.Now i've got four" #4YearsOf1D #MTVHottest One Direction pic.twitter.com/MJZuAMywIV — ✝PlsLiam&Beau✝ (@EatingAusty) July 24, 2014
"who is your boyfriend?" "zaynmalik" "no ur official boyfriend?" "niallofficial" "i meant your real boyfriend?" "ok its real_liam_payne"

— 4YearsOfOneDirection (@LaJamesHoran) July 24, 2014
In honour of the trend, Payne tweeted saying that some things don't change, like him spilling things down his shirt. Styles, Tomlinson and Horan also expressed their gratitude to the fans on Twitter, while Malik has remained inactive on the site since 22 July.
Some things haven't changed though I'm still great at spilling things down my shirt pic.twitter.com/TuTqKshvIl — Liam Payne (@Real_Liam_Payne) July 23, 2014
This time 4 years ago , we were standing backstage , talking about what we were gona call the band, how we were gona dress Hahahahah!

— Niall Horan (@NiallOfficial) July 23, 2014
4 years. Thank you to everyone who is involved in this. I feel so lucky to be part of it. Everyone who has worked with us thank you.. — Harry Styles (@Harry_Styles) July 23, 2014
I hope you all look back on the last 4 years and are proud for what YOU have achieved ! We're in this together ! Loaaaaaads of love !!!!!!!

— Louis Tomlinson (@Louis_Tomlinson) July 23, 2014
Couple of days before their four year anniversary, other 1D trends were making rounds among the Twitterati: #LouisAppreciationDay (17 July), #ZaynAppreciationDay (19 July), #LiamAppreciationDay (20 July), #NiallAppreciationDay (21 July), and #HarryAppreciationDay, which was originally on 22 July, but made a comeback on 24 July, because as this guy puts it:
Are we still doing Harry appreciation day cause https://t.co/B4N2P73cmp — M❁K (@1D_21club) July 24, 2014
One Direction is hugely popular in India too with #IDDayIndia trending among Indian "directioners" back in November 2013.
Haha #1ddayindia @zaynmalik and @Louis_Tomlinson .. Dancing Bollywood :p pic.twitter.com/0DSfSuZqfL

— Tiara deCosta (@tiaradecosta) November 27, 2013
#1DDayIndia Bollywood Challenge was also launched during the time, to find dancers who would teach the boys some Bollywood moves. Sakshi Agarwal, along with her friends Akanksha and Shriya danced to the hit One Direction song "Best Song Ever" in a Desi style and won #1DDayIndia Bollywood Dance Challenge! Not only did they improvise moves from many famous Bollywood numbers into their dance, including "Disco Deewane" , "Shava Shava", "Desi Girl", they successfully incorporated the ever-famous "thumkas", "garbha", and "bhangra".
#India1DFans! Our winner for #1DDayIndia was simply fantastic! Check out @Hii_Sakshi's, Akansha's and Shriya's moves! http://t.co/CDhmpe6YL1 — Sony Music In (@SonyMusicIn) November 26, 2013