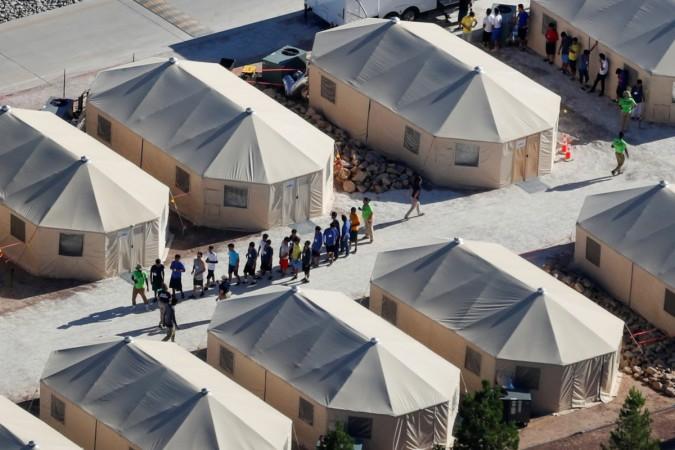 The United States of America is often called the land of the free. And it is not just something that is spoken of colloquially, the country's national anthem "The Star Spangled Banner" too ends with the words "And the star-spangled banner in triumph shall wave O'er the land of the free and the home of the brave!"
However, the US may not really come across as the land of the free to the immigrants who have been held at various detention centres in the last few months. Hundreds of families were earlier separated at the border while trying to cross over to the US and housed in detention centres and many parents did not even know where their children were, often fearing that they would never see them again.
While many families have now been reunited and being held in the same detention centres, immigrants say that their worries are far from over. Several mothers have now written letters from a few detention centres in the US and have said that they might be together right now, but worry about what the future holds and how they may be separated again.
How the mothers decided to write these letters
The letters were collected from the Dilley detention center in Texas with the help of the Dilley Pro Bono Project, under which advocacy groups aim to help and provide legal access to the detainees, reported CNN.
The letters were written after the women spoke to Dilley Pro Bono staff in visitation trailers and told them how the detainees would love to share their stories, dreams and fears with the world. The mothers then wrote these letters, which were translated from Spanish.
What do the letters say?
While some mothers have spoken of the time they were separated from the children, some opened up on how they still feared that their children may be taken away again. They have even said that they were "treated like dogs" at these facilities.
"My children were far from me and I didn't know if they were okay, if they were eating or sleeping. I have suffered a lot," CNN quoted a letter written by a mother identified as Elena. "ICE harmed us a lot psychologically. We can't sleep well because my little girl thinks they are going to separate us again. ... I wouldn't want this to happen to anyone."
Another mother, identified as Elba spoke of the day when her son was taken away from her for 75 days. "They started to call children's names and also the name of my son; he was asleep on the floor," she wrote.
"I woke him up and told him, 'Son, you are going, maybe for only a week.' We both cried when we said goodbye. We didn't know it was for 75 days."
Remembering her anguish, another mother said in the letter: "What hurts me the most is that my daughter got her period for the first time when we arrived at the icebox (centres with low temperatures ) and I was unable to help her. It was the first time and it tormented me. She yelled to me from against the chain-linked fence that her pants were filled with blood and I was unable to help her."
In the last few months, President Donald Trump has come under fire for the way immigrants are being held and ill-treated. And echoing activists' thoughts another mother, identified as Camilla, said that what they went through cannot even be described in words and she wonders what Trump will "gain from making so many people suffer in this way?"
Many mothers were reportedly also told that their children had been given up for adoption. They also said that they had left their countries to give a better future to their children, but what they faced in these detention centres were "the saddest things" in their lives.