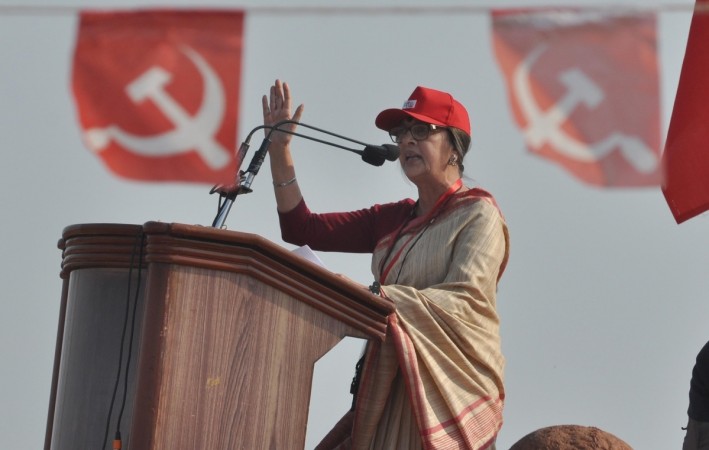 In December 2015, when Indian Prime Minister Narendra Modi visited Kerala, Bharatiya Janata Party's (BJP) Kerala State General Secretary K Surendran became the butt of all jokes for failing to translate the Hindi speech to Malayalam. Now, a supporter of the Left Democratic Front (LDF) party has become the talk of the town for following the footsteps of Surendran.
The translation mishap happened when Brinda Karat, a member of the Politburo of the Communist Party of India (Marxist) visited Kalpetta as part of campaign for the LDF in the upcoming Assembly elections, which is scheduled to take place on May 16.
The hilarious moments from the venue were included in the latest episode of Malayalam political satire programme "Thiruva Ethirva" on Manorama News on Monday. In the video that has gone viral on social media, the translator (name unknown) is heard wrongly translating Karat's speech.
Also read: BJP leader Surendran trolled after failing to translate Modi's speech [VIDEO]
Interestingly, the politburo member, who also understands Malayalam, realises that the person is translating her speech wrongly and is even heard saying certain words in Malayalam for the translator to understand what she exactly said.
Social media users are now calling Karat's translator a "graduate from K Surendran School of Translation." The programme video, uploaded on the YouTube channel of Manorama News, has been viewed by social media users more than 6,000 times in less than a day.
Watch the viral video here:
Here are some social media responses:
Ashish Rastogi
This is indeed funny. Just see, what all gets lost in translation.
Those who know Malayalam will appreciate better.
But those who do not, rejoice in Comrade Brinda Karat's expressions.
Aswani Dravid
Anyone looking for a job? Good in Malayalam-English or Malayalam-Hindi? Looks like leaders from Centre keeps visiting us and we are in dire need of translators! I really can't laugh anymore watching these election speeches by Brinda Karat, Venkaiah Naidu and old modi!
Sajeev V Adoor
From K surendran school of Translation
Nixon V Johnson
T for Tra..Tra ...Translation. .T for....tra....Tragedy