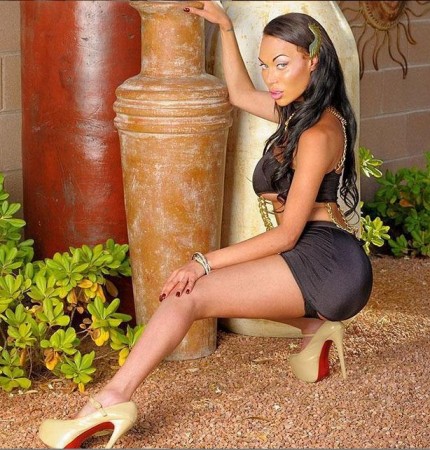 The Kardashian-Jenner family is infamous for pulling a fast one on their better halves; just take a look at the "KUWTK" footage of Khloe lacing her then-husband Lamar Odom's tea with melatonin, and now youngest sister Kylie Jenner's efforts at making sure her boyfriend Tyga isn't cheating on her, by spying on him 24/7.
However, she may not be very far off, if the recent rumours about Tyga's sex life are to be believed.
If the affair between Tyga, 25, and Kylie, 17, wasn't scandalous enough, their saga has now been evolved into a love triangle. Recent reports suggest that the rapper may be cheating on her with transsexual actress Mia Isabella.
According to B. Scott , the affair has been going on for over three years, and if their report is true, then Tyga has also cheated on his ex-girlfriend Blac Chyna. They have also published an e-mail from an anonymous source, which claims that ever since Mia moved to LA – about three years back – she has been involved in a sexual relationship with Tyga and supports this claim with a NSFW text conversation they shared.
"Clearly for her he's been willing to risk it all having made plans to see each other just a couple weeks ago and never stopping their relationship through a baby mama and alleged girlfriend. They seem to have a lot of love for each other even as she was being courted by a boxer named Jean Pascal she had no interest in," claims the mail.
Excerpts from the alleged texts:
Mia: "If any haters try to publicly connect us I'll only ever say we were friends through fashion because of my work as a stylist and your clothing line, never sexual. Cuz that hoe who used to be my roommate been running her mouth and that b*tch we did a 3 some with last summer in weho who used to be my friend."

Tyga: "Ok, don't trip. That's why we gotta be low key, can't trust no one."
However, the fact of the matter is that it is quite possible to photo-shop the screenshot of the said texts, and even the "d**k" pic from Tyga.
Although she mostly spoke of transgender issues, Mia addressed the alleged relationship between her and Tyga on VH1 saying: "This person is not the man that I love but I have loved a few incredible and celebrated men in my life."
Tyga's friend King Trell responded to the rumours with a very explicit message on Instagram:
Tyga, who has always been quite private about his life, wrote this cryptic message on his Twitter feed:
Smh. The devil is working hard today. Lol

— T-Raww (@Tyga) July 7, 2015