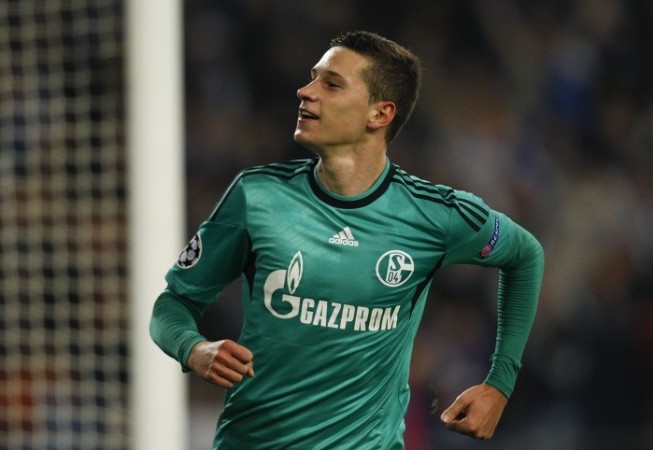 Germany international Julian Draxler has opened up a potential move to the English Premier League by admitting he would love to play for one of the big three - Arsenal, Chelsea or Manchester United - sometime in the near future.
Draxler is the latest in the seemingly never-ending German production line of gifted playmakers, and the Schalke man has been touted to follow in the footsteps of the likes of Mesut Ozil, currently thriving at Arsenal, Marco Reus and Mario Gotze, just to name a few.
Arsenal were heavily linked with a move for Draxler in the summer transfer window, while the likes of Chelsea and United have also reportedly shown an interest.
In fact, some recent reports have suggested, Chelsea are ready to make a bid for the young German in the January transfer window.
To be honest, both Chelsea and Arsenal have ridiculous quality, and then some, in the attacking midfield position at the moment, but like Arsene Wenger showed in the summer - when someone with world-class potential becomes available, you take advantage.
Draxler only recently signed a new long-term contract with Schalke, but said he could be tempted to a move abroad.
"I owe Schalke a lot, I have always been at Schalke," the 20-year-old told Kolner Stadt-Anzeiger. "I need to emphasise this. But I 'm not so rooted here that I could not tear myself away.
"I can honestly say that it is my dream to play for one of the big clubs at some point.
"You don't have to be playing for the very top club's in Europe to draw attention to yourself, but if you want to achieve the great goals that the world-class players have, then one of them is playing at the biggest clubs in the world."
Asked to name the clubs that he fancies playing for, Draxler said: "The big two in Spain, Real and Barcelona, Bayern and a few others from England, namely Arsenal, Manchester United and Chelsea."
Arsenal look like they have the upperhand when it comes to luring Draxler to the Premier League, as the youngster is a big fan of Ozil.
"I've always said I'm a big fan of Mesut Ozil, who ventured abroad and developed at Real Madrid into a world-class player," he added. "Just to be a teammate of his (with the German national team) makes me quite proud."