Arsenal fans, have the patience. It might take some more hours before the club really manages to make the full purchase of Pierre-Emerick Aubameyang in the January transfer window 2018.
The fast-paced Gabon international has dominated the transfer news throughout the month and the Gunners have just a few hours left to complete the deal from Borussia Dortmund.
Several journalists on Twitter have already mentioned that Aubameyang, 28, is a done deal and it is only a matter of hours since the medical gets completed in London and the player is announced as a new Arsenal man.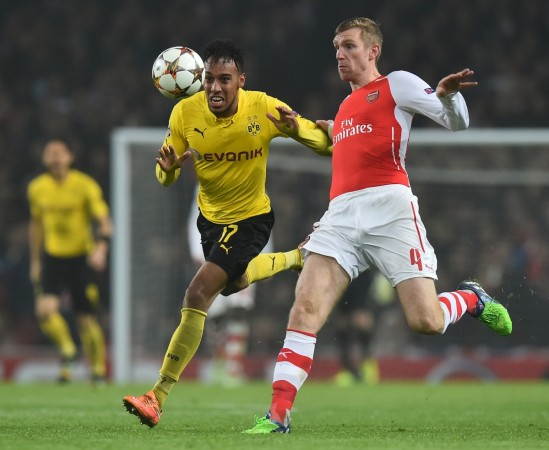 "Arsenal close to reaching agreement to sign to striker Pierre-Emerick Aubameyang from Borussia Dortmund for club-record fee in region of £60m," BBC Sport correspondent David Ornstein gave an update a few hours back.
"Transfer won't be sanctioned until Borussia Dortmund have replacement lined up - remains unclear if that will be Olivier Giroud or not."
There has already been one hot swap in English football this January transfer window 2018 with Alexis Sanchez moving over to Manchester United and Henrikh Mkhitaryan heading to Arsenal. Mkhitaryan is set to make his Arsenal debut against Swansea in a Premier League match later this Tuesday.
Now, even Aubameyang's move from Dortmund to Arsenal can be confirmed after the German club achieve success in finding a replacement for the France-born Gabonese star. As per reports, Olivier Giroud is set to be involved in a potential swap deal. Now again, Chelsea now has put their eyes on the Arsenal marksman.
Antonio Conte's side are absolutely determined on landing a top target-man by the end of the transfer deadline day. All these hullabaloo is absolutely making things complicated for all parties as well as the fans.
David explains the entire situation clearly.
Merry-go-round: Giroud was lined up to replace Aubameyang at Dortmund then got offer from Chelsea & was keen, so Dortmund turned to Batshuayi. But Chelsea baulked at Giroud fee so discussed Batshuayi/Llorente swap with Spurs, which nobody agreed on. Deadlock #AFC #BVB #CFC THFC pic.twitter.com/HA6ymZ6IiN

— David Ornstein (@bbcsport_david) January 29, 2018
Former Manchester City forward Edin Dzeko is a big target for Chelsea, meanwhile. It can be a repeat of the January transfer window 2011 when Dzeko made his move from Wolfsburg to the Manchester side. Dzeko is currently with Roma.
After failure in landing the likes of Andy Carroll and Peter Crouch, it has been learnt that Dzeko and Giroud remains the top two targets for Chelsea as of now.
Michy Batshuayi's future however still remains highly uncertain.
Our predictions from the transfer deadline day:

Arsenal sign Aubameyang
Giroud moves to Chelsea
Dzeko stays put at Roma
Batshuayi goes to Borussia Dortmund