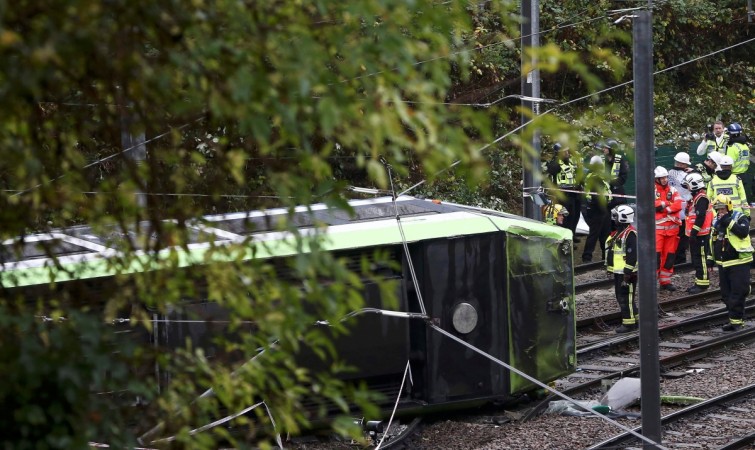 A tram derailed in south London's town of Croydon on Tuesday causing "some loss of life" and injuring over 50 people. Several people were rescued but two people were feared trapped.
Eight fire engines and over 70 fire-fighters and other emergency services were sent to the scene to rescue, and people were trapped inside the tram near the Sandilands tram stop in Addiscombe Road, the London fire brigade said.
According to Transport for London (TfL), the accident took place inside a tunnel and that the tram overturned next to an underpass and apparently derailed where the track diverges. The cause of the derailment is still not clear.
"A number of people have been taken to hospital with injuries and sadly it looks as though there has been some loss of life. It is too early for us to confirm numbers but we are working hard to assess the ongoing incident and we are continuing to focus on recovery efforts," Assistant Chief Constable of British Transport Police (BTP) Robin Smith told the BBC.
"The Rail Accident Investigation Bureau is now investigating this incident and will work out how this tragic incident has occurred. We are currently working to set up a number for relatives and friends to call, so will circulate that as soon as we can. In the meantime, anyone with concerns is asked to call 101," Smith added.
Friends and family can also call for information on 0800 0560154.
The London Ambulance Service (LAS) told the Guardian that over 50 patients had been rushed to a hospital while around 31 of them were transferred to Croydon University Hospital. The other 20 patients are undergoing treatment at St George's Hospital in Tooting.
"Our staff are currently triaging and caring for them so we would ask members of the public with more minor routine ailments to consider going to the local walk-in centre or their GP if possible," Croydon Health Services NHS Trust told the daily.
"When it happened this morning we could hear sirens. My boyfriend left to go to work at 6.35am and the crash happened at about 6am. He said he came out of our house and saw [lots] of people in hi-vis jackets running around in the torrential rain and he said it was chaos. I could see them flying up and down the road, the fire engines and police," Lucie England-Duce, who lives close to the scene of the crash, told the Guardian.
Mayor of London Sadiq Khan offered condolences and said: "My thoughts and prayers are with the friends and families of those who have lost their lives today, and everyone involved in this incident. I am in contact with emergency services and TfL, who are working extremely hard to get the situation under control and treat those who have been injured. We are asking people to please visit the TfL website, tfl.gov.uk, for the latest travel information."