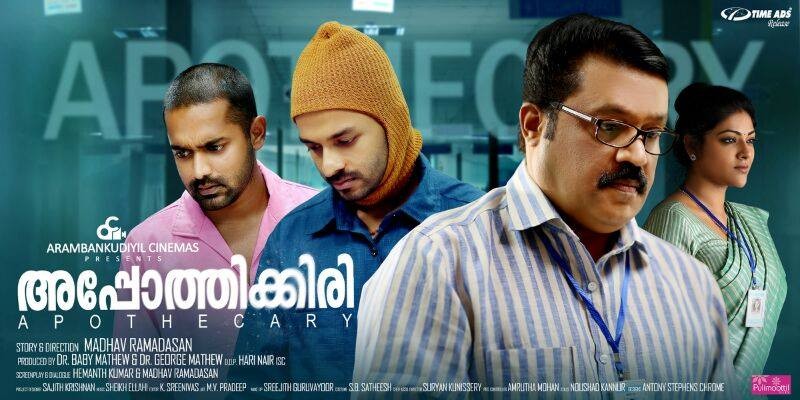 The trailer of Malayalam film "Apothecary" starring Suresh Gopi, Abhirami, Jayasurya and Asif Ali is released. The film is directed by Madhav Ramadasan of "Melvilasam" (2011) fame.
"Apothecary" is a medical thriller and is set in the backdrop of a modern day, up market hospital. The film revolves around different aspects of doctor-patient relationships and a doctor's dilemma when it comes to perform his medical ethics. The film will also display the bitter realities of multi specialty hospitals, which don the status of five star hospitals. The film is said to be a reminder to those who disregard the concept of medical ethics.
The film is about Dr Vijay Nambiar (Suresh), a neurosurgeon and his gynaecologist wife Nalini Nambiar (Abhirami), who works at Apothecary hospital. The story begins when a patient named Subi Joseph (Jayasurya) enters the scene. The film then revolves around the catastrophe in Dr Vijay's life and the experiences he goes through, which changes his perspective towards life and outlook on values.
"Apothecary" trailer shows that the film deals with love, pride, compassion, wrath, hope and fate of everyone who is involved with Apothecary hospital.
The film's team had earlier released teasers introducing the main characters and assures it to be a blend of stunning performances from them.
"Apothecary" is considered as a comeback for Suresh Gopi in terms hits in the boxoffice and actress Abhirami is making her comeback after marriage with the character of Dr Nalini.
Actor Jayasurya made news for his look as a patient in the film. The actor had reduced more than 10 kg for his role in "Apothecary."
Asif Ali will also be seen in a different look as Prathapan. The film also has Meera Nandan, Indrans, Jayaraj Warrier, Thambi Antony, Arun and Seema G Nair in important roles.
The story of "Apothecary" is also written by the director. Madhav is making his comeback to Malayalam film after "Melvilasam" (2011), which was an adaptation of Soorya Krishna Moorthy's stage play with the same name, based on the Hindi play "Court Martial" by Swadesh Deepak. It was an experimental film in Malayalam and was shot completely in a single room.
"Apothecary" is produced by Dr Baby Mathew and Dr George Mathew under the banner of Arambankudiyil Cinemas. The trailer of the film is prepared by Rathish Ambat. The script of the film is done by Dr Madhav Ramdasan and Dr Hemanth Kumar, whereas the cinematography is done by Hari Nair. The music of the film is tuned by debutant Sheikh Ellahi.