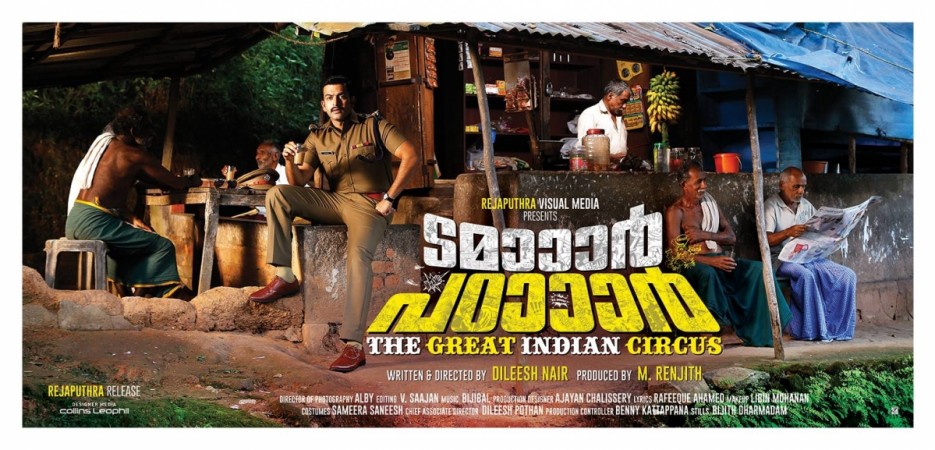 The trailer of the upcoming Malayalam film "Tamaar Paadar" is released.
The film stars Prithviraj, Baburaj, Chemban Vinod and Srinda Ashab in the lead. The film is written and directed by Dileesh Nair and is touted as a satirical comedy film.
The trailer begins with a speech by Baburaj. He plays the character Jumper Thampi who plays street circus. He claims that circus is an art form and thereby a circus man is an artist. His circus company is known as Kanakam Royal Circus and begins the performance, which is called "Tamaar Padaar".
Jumper Thampi spends most of the time in local toddy shops and calls himself as the only person who is capable of riding a bike in a well of death in South India.
The trailer then introduces the character played by Chemban Vinod, who is known as Cross Belt Mani. He is also a street performer and is seen breaking tube lights on the chest.
Next, Srinda Ashab is introduced as Valsamma who is a bold and smart woman. This film is said to be an important one for Srinda after her notable performance in the film "1983".
When Jumper Thampi and Cross Belt Mani meet, they understand the scope of performing together and become partners. Their life gets mixed up when the Assistant Commissioner of Police enters their life.
Prithviraj dons the role of a police officer again in the film with the character name Pauran and is spotted using Trivandrum slang. Meanwhile, in his last release "Sapthamashree Thaskaraha:", the actor was seen using Thrissur slang and played the role of a thief.
The name Pauran was given to him by his father (Vijay Babu) who was a socially committed person. He wanted his son to become a police officer so that he would serve his society and be just. Pauran is all set to find out a notorious escapee Sukumara Kurupu.
"Tamaar Padaar" also has Shammi Thilkan and Maniyan Pilla Raju in pivotal roles. The film is produced by M. Renjith under the banner of Rajaputhra Visual Media.