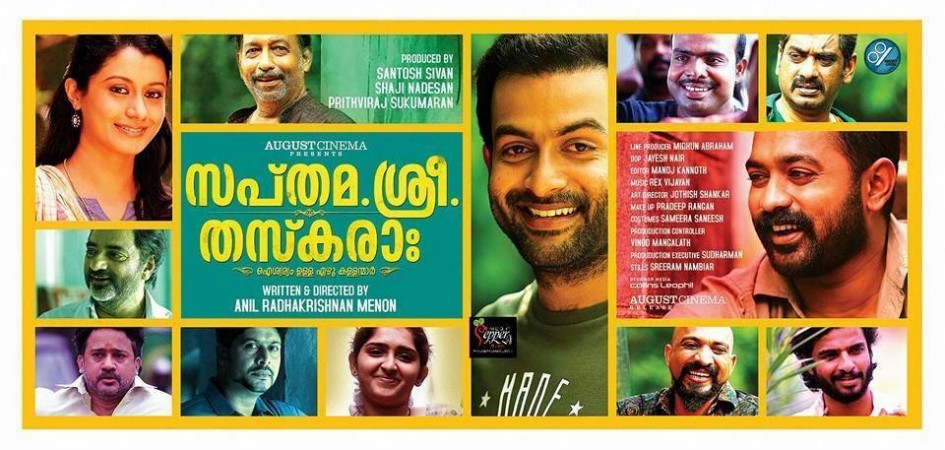 The trailer of the upcoming Malayalam film "Sapthamashree Thaskaraha:" is released.
The trailer has managed to get positive responses within hours of its release. It introduces the characters played by Prithviraj, Asif Ali, Nedumudi Venu, Neeraj Madhav, Sudheer Karamana, Salaam Bhukhari and Chemban Vinod.
The trailer, which begins with a humorous narration in a typical Thrissur slang indicates that the film has a strong comic trail in it.
In the narration by Vinod, prison is said to be a creative place as its inhabitants are said to be proficient in one skill or the other, and moves on to show prisoners making food, cleaning and so on. It then introduces the seven thieves who are the main characters of the film.
Krishnanunni, Shahab, Noblettan, Narayanankutty, Salaam, Vasu and Marty are the seven prisoners who are tagged as gentlemen thieves. The trailer gives us an indication that they all are set to steal something exclusive, which involves proper planning and preparation.
The trailer also gives insights to the characters played by Sanusha, who is seen as a nurse and Reenu Mathews, the love interest of Prithviraj in the film.
The comic dialogues and excellent acting by the actors are well reflected in the trailer, which has raised the expectations for the film.
It is clear that the film is deeply rooted in the culture and lifestyle of Thrissur, the cultural capital of Kerala. And this is not the first time a Malayalam film is set in Thrissur, which is known for its musical accent. Successful films like "Thoovanathumbikal", "Pranchiyettan and the Saint" and "Punyalan Agarbathis" are all known for using this accent.
"Sapthamashree Thaskaraha:" is slated to release on 5 September and is written and directed by Anil Radhakrishnan Menon after his directorial debut "North 24 Kaatham" (2013).
The cinematography is done by Jayesh Nair. The music is done by Rex Vijayan and the film is produced by Santhosh Sivan, Shaji Nadesan and Prithviraj under the banner of August Cinemas.