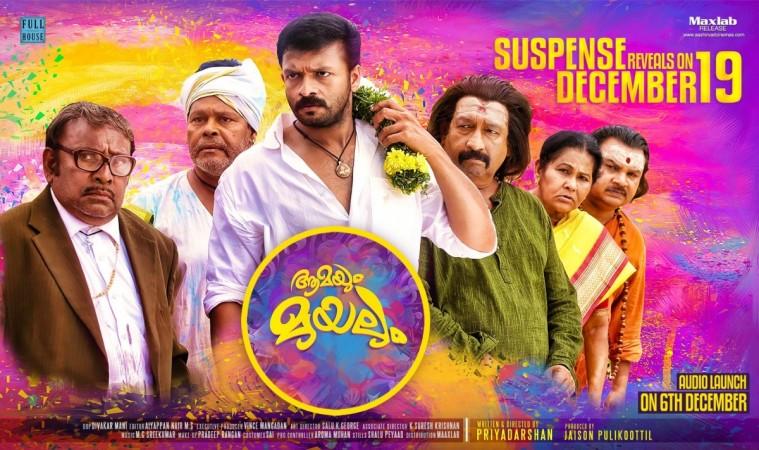 The trailer of Priyadarshan's much-awaited Christmas release "Aamayum Muyalum" was released on Wednesday. It introduces the characters of the film and tells the story of the film revolves around a village on the banks of a river and its people.
The trailer goes with a narration that the film is about "a love, a death, a big secret and the villagers who are chasing a lot of money."
Though Priyadarshan has not officially announced that the "Aamayum Muyalum" is remake of his Hindi film "Malamaal Weekly", the trailer of the film and the storyline resembles to the Bollywood film.
The story of "Malamaal Weekly" revolves around Lohli, which is haunted by drought. Most of the villagers' properties are under the control of local "Thakurani" and the only entertainment the villagers have is the weekly lottery, "Malaamal Weekly". Lilaram, a villager is the intermediary between lottery organisation and the village and he receives commission for it.
One day he reads the winning lottery numbers and realises that one of the tickets from his village has won the top prize of ₹1 crore. He devises a plan to obtain the winning ticket and present it to the commission as his own. The rest of the film talks about how Lilaram tries to get the lottery money. The film had opened to positive reviews and had a good box office opening.
Meanwhile, "Aaamayum Muyalaum" has a huge star cast including Jayasurya, Pia Bajpai, Innocent, Nedumudi Venu, Harishree Ashokan, Manianpilla Raju, Mamookoya, KPAC Lalitha, Edavela Babu, Nandu and Anoop Menon in pivotal roles. Popular dancer and actress Bhavna Pani will also appear in an item dance in the film.
The cinematography of the film is handled by Divakar Mani and the editing is done by Aiyappan Nair MS. This upcoming entertainer is produced by Jaison Pulikoottil under the banner of Full House Entertainment.
"Aamyum Muyalum" would hit theatres on 19 December.