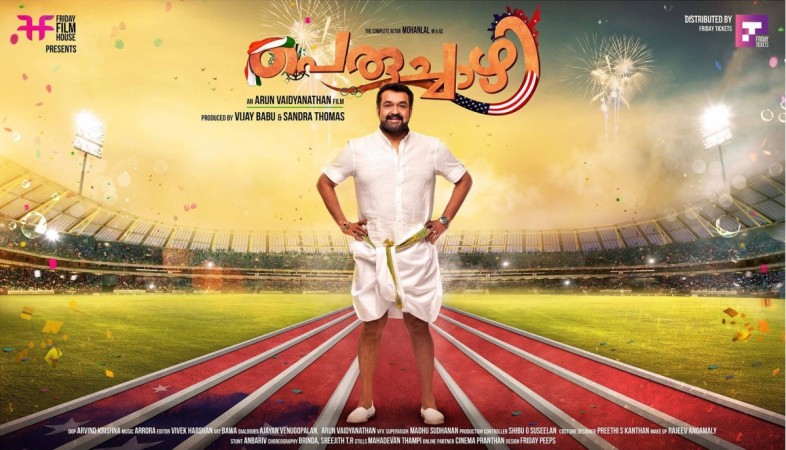 The most awaited trailer of the upcoming film "Peruchazhi" starring Mohanlal is released, which also features Aju Varghese, Babu Raj, Vijay Babu and Mukhesh. The film is written and directed by Arun Vaidhyanathan.
The trailer gives a glimpse of Mohanlal and his team who are in America as a part of an election campaign. The film revolves around the life of two friends - Vishwanathan played by Mohanlal and Minister Raghavan played by Mukhesh. Even though they are good friends, they are political rivals at the same time.
The film goes through various incidents where both of them try to pull each other down. Vishwanathan, also known as 'peruchazhi' is a clever aspiring politician. The film takes a turn when Vishwanathan, an illiterate in English is sent to the US during the gubernatorial election with the mission of raising the political graph of a politician who failed to keep his promise to his people. It then shows how he survives in America and completes his duty without knowing English. The thriller movie shows the political conditions of both America and India with a funny bone.
"Peruchazhi" is Arun Vaidhyanathan's debut Malayalam film, who had earlier directed two Tamil films, "Achchamudu Achchamudu" (2009) starring Prasanna and Sneha and "Kalyana Samayal Saadhanam" (2013) starring Prassana and Lekha Washington.
"Peruchazhi" also has Delhi Ganesh, Shankar Ramakrishnan, Sean James Sutton, Ragini Nandhawani, Andrea Jeremiah, Sandra Thomas and Poonam Bajwa in the lead roles.
While Arrora composed the music, the art direction is handled by Bawa and Julie Ziah. The editing is by Vivek Harshan and the cinematography is by Arvind Krishna.
This big-budget film is produced by Vijay and Sandra under the banner of Friday Film House, which had produced films like "Philips and the Monkey Pen", "Zachariahyude Garbhinikal" and "Friday." The producers will soon remake the Mohanlal starrer into Tamil, Telugu and Hindi.
"Peruchazhi" is all set to release for this year's Onam.