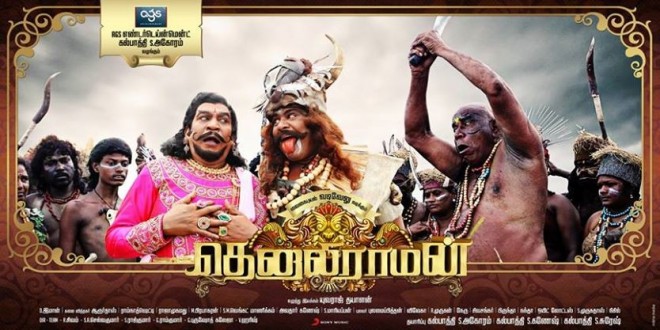 The much-awaited official trailer of comedian Vadivelu's comeback film "Jagajala Pujabala Tenaliraman" trailer has been released.
The 3-minute long trailer gives us a glimpse of what to expect from the film. To watch the trailer, click HERE.
It appears that a lot of CG work has been involved in making the project. The trailer has already impressed the fans and has fetched more than 19,000 hits in less than half a day.
The video uploaded on YouTube has received positive comments from fans, with one user named sagekd commenting "(the trailer) looks amazing! can't believe its directed by a newcomer, anyway cant wait to see the film!"
Another user named chanothebest said, "Wow amazed at the quality, great visuals. Better than pulikhesi previous movie. This should be the comeback of vadivelu."
Directed by Yuvaraj Dhayalan, "Jagajala Pujabala Tenaliraman" is deemed to be a historic comedy film with Vadivelu appearing in dual roles. In the past, the actor has starred in historical drama "Imsai Arasan 23rd Pulikesi," which did well at the box office.
"Jagajala Pujabala Tenaliraman" is one of the most-awaited films of 2014. Expectations are high for "Tenaliraman" as fans of Vadivelu are eagerly waiting to see their favourite comedian return to the silver screen.
The historic drama flick marks the return of ace comedian Vadivelu to the Tamil film industry after taking a two-year hiatus from acting. The film also has Meenaxi Dixit, Radha Ravi and Manobala among others in pivotal roles.
The Vadivelu starrer will have music composed by Imman, while cinematography is handled by Ramnath Shetty. The film, produced by Kalpathi S. Aghoram Kalpathi S. Ganesh Kalpathi S. Suresh under AGS Entertainment banner, is all set to release as a summer entertainer.
The film is confirmed to hit screens on 11 April. "#Vadivel's comeback film Jagajala Pujabala Tenaliraman, confirmed for April 11. All areas in TN getting sold out, big buzz in the trade," entertainment industry tracker Sreedhar Pillai tweeted.
The comedy entertainer will be clashing with Vishal's "Naan Sigappu Manithan," which is set to release on the same day.