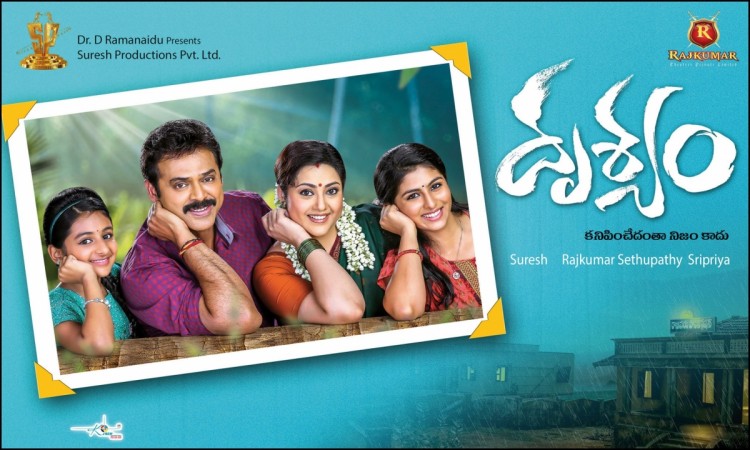 Trailer of Telugu film "Drushyam" starring superstar Venkatesh, Meena, Nadia Moidu, Baby Esther and Krithika in lead roles is released. "Drushyam" is the Telugu remake of the Mohanlal-starrer Malayalam film "Drishyam" and is getting ready for release on 13 July. The film is directed by actress-turned-director Sripriya.
Venkatesh will play Mohanlal's character in the Telugu remake. Meena and Baby Esther have retained their roles as Venkatesh's wife and the youngest daughter respectively. Krithika will play as the elder daughter. Moidu will be the IAS officer, which was done by Asha Sharath in the original version.
The Telugu remake is a family thriller and is said to have some changes from its original. The plot of the film is about a common man, leading a happy family life. Unexpectedly, their life turns upside down after his family commits a crime. The rest of the story revolves around the father's attempts to save his family from the trouble.
"I saw the original version just two days after its release in Malayalam and I was completely hooked on to it," said Venkatesh to Times of India about the film, "The film has a universal appeal, with the right kind of emotions to appeal to all age groups."
"It's not an experimental film. When I talk about taking a calculated risk, it's important that the project is commercially viable," he explained, "If films like these do well, it'll set a great example for others that it's possible to think out of the box and move away from the mundane subjects we dabble with."
"Drishyam" directed by Jeethu Joseph made history in terms of its box office collection in Malayalam. It became the first ever Malayalam film to collect ₹50 crores. It also became the second film to run 100 days in UAE after Titanic, where more than ten lakh Keralites reside.
The film got excellent reviews and Joseph was appreciated for the attempt to bring a family thriller in Malayalam, which was almost a new genre for its audience. The film has won many accolades including Kerala State Film Awards, Kerala Film Critics Association Awards, Asianet Film Awards and Vanitha Film Awards.
The movie is also nominated for 61st Filmfare Awards South in six categories, including best film, best director, best actor male, best actor female, best supporting actor male and best supporting actor female.
"Drushyam" is produced jointly by Suresh Productions, Rajkumar Theatres Pvt Ltd and Wide Angle Creations. The film's cast includes Naresh, Ravi Kale, Paruchuri Venkateswara Rao, Sameer and Saptagiri.
Shot in beautiful locales around Araku Valley, Vijayanagaram, Hyderabad and some parts of Kerala, the cinematography is handled by veteran cinematographer S Gopal Reddy and the music is done by Sharreth.