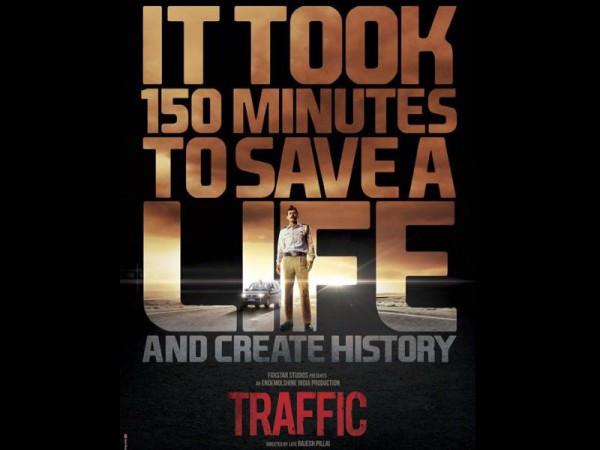 The trailer of the film, "Traffic" has been released, and shows Manoj Bajpai playing a powerful character. "Traffic" is Hindi remake of a 2011 Malayalam movie by the same name, which was based on a true incident. It is a thriller that shows the story of how a person's heart was transported from one city to another by road in just 150 minutes, so that it can be transplanted into a dying little girl.
"Traffic" features Manoj Bajpayee as a traffic police constable, Jimmy Shergill as Mumbai Police Commissioner, Prosenjit Chatterjee as a superstar, Parambrata Chatterjee as a surgeon, and Sachin Khedekar and Divya Dutta, among others.
With such a powerful star cast, the film trailer, of course, looks impressive. It shows a young journalist, who gets fatally injured in an accident and is declared brain dead. Meanwhile, an emergency case arrives in a hospital in another city, in which a 12-year-old girl's heart needs to be transplanted.
With no other option available, the girl's parents ask the dying journalist's parents to give their son's heart as he was already dying. Although the journalist's parents initially do not agree to take him off ventilation, they eventually get convinced.
However, a bigger problem arises as no choppers are available for three hours while the transplant operation has to be done at the earliest to save the child. That's when the Police Commissioner decides to set off the mission to transport the heart by road. But the congested Mumbai traffic poses the biggest concern. A traffic police constable, who was suspended for taking a bribe, volunteers to take up the task as he wants to regain the respect that he had lost.
Both the original film as well as the Hindi remake have been directed by Rajesh Pillai, who had passed away February 27 at Kochi. Pillai was suffering from liver cirrhosis. His last film was "Vettah" that was released just a day before his demise. "Traffic" is slated to be released May 6. Check out the trailer of "Traffic" below: