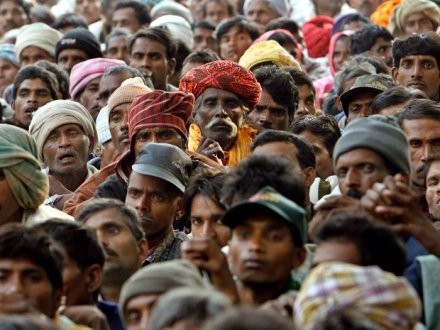 The two-day trade union strike, which started on Wednesday, was marred by violence on day one, including burning of office goers' cars and other vehicles, and the death of a protestor.
Several trade organizations including the Bhartiya Majdoor Sangh (BMS), All India Trade Union Congress (AITUC), Hind Mazdoor Sabha (HMS), Indian National Trade Union Congress (INTUC), Centre of Indian Trade Unions (CITU), and All India United Trade Union Centre (AIUTUC) have called for a two-day Bharat Bandh to protest against price rise, and anti-people and anti-workers policies of the government.
Day one of the Bharat Bandh took an ugly turn after 55-year-old Narendra Singh, treasurer of AIUTUC, died in Ambala, Haryana after being knocked down by a bus while trying to stop it from plying. Section 144 was imposed in the district after protestors turned violent and pelted stones at the police besides damaging vehicles.
Bharat Bandh supporters turned violent in Noida Phase 2, setting ablaze several vehicles and damaging property. Police said that the protestors damaged several vehicles including a fire engine. 14 protestors were arrested in connection with the incident.
The nation-wide bandh called by the Central Trade Unions received mixed response but affected banking, insurance companies, transport, telecom and oil industries badly. Air and train services were not affected but public transport was affected in most states, as buses and taxis kept off the roads.
Some of the worst hit states are Tripura, Jharkhand, Bihar and Kerala. The streets wore a deserted look and most business establishments were shut down in these states. Protestors even disrupted train schedules in Bihar.
However, there was only partial response in states like Karnataka, Andhra Pradesh, Tamil Nadu, Maharashtra and West Bengal. Public transport was normal in most of these states though educational institutions and business establishments were shut down in most places.
The strike was called by as many as 11 trade unions in the country after talks with the government failed to produce anything positive.
Trade unions have raised a charter of demands that includes - to contain price rise, to ensure employment generation, strict enforcement of labour laws, universal social security for unorganized and organized workers, stoppage of disinvestment in Central and State Public Sector Undertakings, abolition of contract labour, removal of all ceilings on payment and eligibility of bonus, provident fund and assured pension for all.
The Associated Chambers of Commerce and Industry (ASSOCHAM) has said the estimated loss of the trade unions' two-day strike (Wednesday and Thursday), which is set to cripple banking, insurance, transport and several other sectors, is ₹15,000 to ₹20,000 crore.