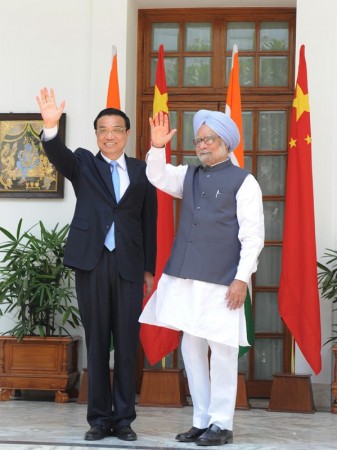 Indian Prime Minister Manmohan Singh will boost trade ties and discuss the issue of border incursions, during his three-day visit to China at the invitation of Premier Li Keqiang.
"China is our largest neighbour and one of our top trading partners. In my last 9 years in office as Prime Minister, I have worked closely with Chinese leaders to establish a Strategic and Cooperative Partnership and put in place comprehensive mechanisms for cooperation and dialogue and to address bilateral issues between our two countries," the PM said in a statement on Sunday.
The two-way commerce for China in India climbed to $57.83 billion last fiscal year, reported PTI.
China's Foreign Direct Investment (FDI) increased to 4.88 percent in September, reported the state-owned Xinhua, as compared to the same period last fiscal year. The neighbouring country drew $8.84 billion through FDI in September 2013, adding upto $88.6 billion this year.
According to the Department of Industrial Policy and Promotion, FDI inflows from China since 2000 till July 2013 amount to $236.49 million only.
When asked about the whopping trade deficit with China and whether it will be tabled during the PM's China visit, Indian Foreign Secretary Sujatha Singh said, "This is something that can be dealt with by enhancing Chinese direct investment into India. In fact this May, during his visit to India, the Chinese Premier had proposed establishing a Chinese industrial park in India where Chinese companies could cluster together; and India takes this proposal very seriously."
"A team from China - from their Ministry of Commerce and the China Development Bank - is in India to discuss this subject with the Ministry of Commerce and Industry. We will be showing them some possible sites for an industrial park or zone. The same time is also discussing with the Department of Commerce a five-year trade development plan which will seek to ensure more balanced trade," she added.
The India China Trade Centre (ICTC) decided to formulate eight committees on Friday to help promote bilateral trade in the fields of agro & food processing and marine products, regulatory affairs & taxation, law & justice, films, media & communication, metals, minerals & chemicals, IT & ITES, MSME, automobiles and auto components.
Border Incursions
PM Singh will be signing a Border Defence Cooperation Agreement, which aims to prevent face-offs between troops of both sides along the 4,000-km boundary they share.
"Peaceful, friendly and cooperative relations between India and China have provided conditions for both our countries and the wider region to grow with stability. During my visit, I will discuss with my Chinese interlocutors ways and means to consolidate our common strategic interests," he said.