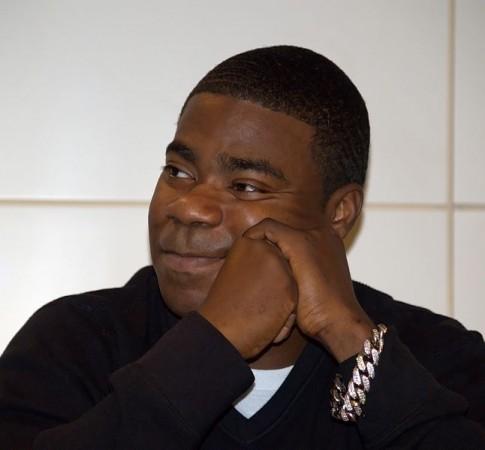 Tracy Morgan's June 7 accident has triggered a number of rumors suggesting that the comedian has passed away due to fatal injuries.
Morgan, a former "Saturday Night Live" and "30 Rock" star, was returning from a show at The Rollins Center at Dover Downs in Delaware, when his vehicle crashed with a truck in the early hours of Saturday.
Morgan was immediately rushed to the Robert Wood Johnson University Hospital in New Brunswick, New Jersey, and his representative released a statement to the media stating that the comedian's condition is critical, but stable.
"While Tracy remains in critical condition, he has been more responsive today, which is an incredibly encouraging sign," his representative said on Sunday, according to HollywoodLife.
Detailing the extent of his injuries, the representative noted that Morgan has a broken leg, a broken femur, a broken nose and several broken ribs. The comedian also had a surgery on his leg, which sparked rumors that he had his leg amputated.
"His fiancée Megan is by his side. The concern for his well-being has been overwhelming, but Megan is respectfully asking that the media await official word through these channels before speculating (mostly inaccurately) on his condition. Rumors about amputating his leg are completely fabricated," the representative added in yet another statement on Monday, reported CBS.
Despite these official statements, Twitter was flooded with messages stating that Morgan had passed away, giving rise to yet another death hoax.
Did Tracy Morgan really died? o.O

— Carlos Corona (@MunkzMusic) June 12, 2014
R.I.P Tracy Morgan — Nozy Ndlovu (@NoziphoSjuh) June 12, 2014
All these Tracy Morgan dead rumors .... Is it true ?

— Brannon Dark (@brannondark3) June 12, 2014
Meanwhile, the Wal-Mart truck driver involved in the crash has pleaded not guilty to vehicular homicide and assault by auto. On Saturday night, Kevin Roper, 35, was released on a $50,000 bond, and he immediately took to his Twitter account to blame the media for spreading false reports about him.
"As for the accident i have some things to get off my chest that the media and police have neglected to report. First off i never said i was...awake for 24 hours, not once did i say that to any law enforcement or media person," he wrote, according to Closer Weekly.
"These are lies being spread because they are pressured...to make an arrest as this accident was being covered "NATIONALLY" because a famous person was involved."
He also said that he was neither drunk nor high at the time of the incident.
"So yes i am now most likely fu*ked because i had an unfortunate ACCIDENT with the wrong car that night."