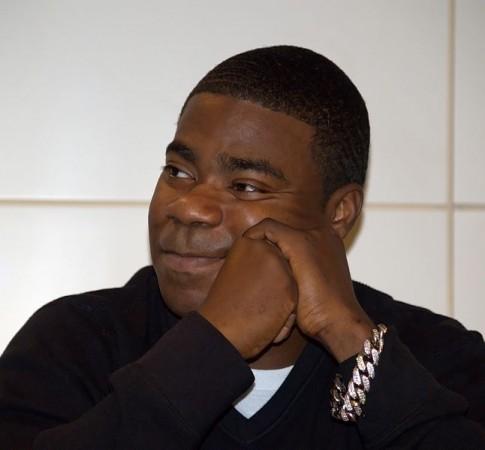 Comedian Tracy Morgan is in critical condition following a car crash on 7 June in New Jersey that left one dead and several others injured.
James McNair, one of Morgan's writers, was pronounced dead at the scene on the New Jersey Turnpike, following the multivehicle crash on Saturday morning.
Morgan and six of his pals were returning to New York following a stand-up comedy gig when their vehicle was struck by a Wal-Mart truck.
The "30 Rock" actor remains in serious condition, but his family is hopeful that he will make it through.
"The family and friends that have been in contact with Tracy and know of his condition feel that he will survive but it will be a long road ahead," a source told HollywoodLife. "It's a very scary situation and there has been quite a lot of prayers. But his family also want to provide laughter and are doing their best to keep as much of a jovial atmosphere and mood as possible while in the hospital."
But Morgan's ex-wife, Sabina Morgan, who is also the mother of his three children, is dubious of such assurances. "I don't know. We're just still vigilant with prayer," she said, according to the New York Daily News.
"He's not in good shape. I'm traumatized. I'm so upset. I can't believe it. It's like I'm in a nightmare," she added.
In a statement to the media, Wal-Mart CEO Bill Simon expressed sorrow over the accident, and said that the company would take responsibility if it was determined that one of their trucks caused the accident.
"This is a tragedy and we are profoundly sorry that one of our trucks was involved," Simon said. "The facts are continuing to unfold. If it's determined that our truck caused the accident, Wal-Mart will take full responsibility."
Although Morgan is currently battling for his life, social networking sites are flooded with messages stating that the comedian has passed away. Facebook has at least three "R.I.P. Tracy Morgan" pages where fans believing the comedian to be dead have posted condolences.
Just a day before the accident occurred, the Internet was flooded with rumors of his death following a report on parody news site MediaMass.net.
The website reported that the actor's alleged death gained traction after a Facebook page titled "R.I.P Tracy Morgan" attracted nearly one million 'likes'.
"At about 11 am ET on Saturday (June 07, 2014), our beloved actor Tracy Morgan passed away. Tracy Morgan was born on November 10, 1968 in New York. He will be missed but not forgotten. Please show your sympathy and condolences by commenting on and liking this page," the "About" section of the page allegedly stated.
However, no such page is currently active on Facebook.
The website even quoted Morgan's representative as saying that Morgan is not dead and that he is doing well. "He joins the long list of celebrities who have been victimized by this hoax.
"He's still alive and well, stop believing what you see on the Internet," Morgan's representative is believed to have told the media.