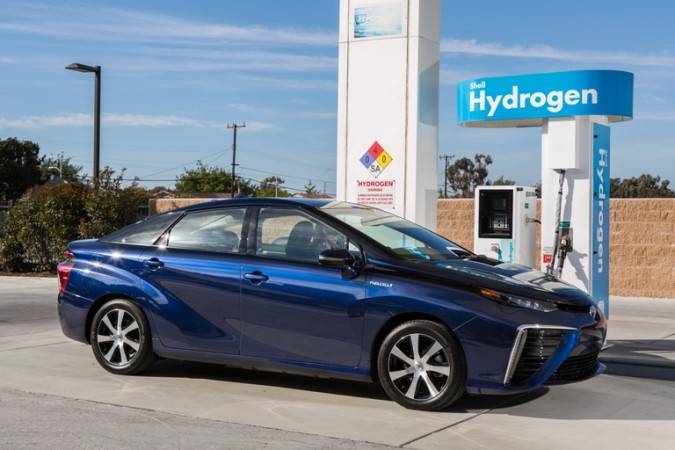 Toyota, the world's largest auto maker, is riding on the success of Prius hybrid with its all-new 2016 Mirai that runs completely on hydrogen. The new vehicle is a first of its kind from Toyota and comes at a time when the market for fuel-cell vehicles is in its infancy. Only a handful of car makers have explored this new category, a sharp turn in the well established automobile market.
In an official press release on Monday, Toyota said the company will commence sales of its first fuel cell cars in Japan starting December 15 followed by the U.S. and European debuts in mid-2015. The stylish, four-door Toyota Mirai will retail for $57,500 in the U.S. excluding federal and state incentives, which could drop the vehicle's cost to under $45,000. Despite a premium price tag, consumers will have a tough time getting their hands on one of these emission-free cars.
According to Reuters, Toyota plans only 200 units of Mirai FCVs (fuel-cell vehicles) in the United States next year. However, the inventory is expected to increase to 3,000 FCVs by 2017. In Japan, the car maker hopes to sell 400 units in the first year and an additional 100 cars in Europe.
Yoshikazu Tanaka, deputy chief engineer for Toyota's next generation vehicle development, said the company is aware of the risk involved but hopes to be the first automobile maker to promote the use of FCVs around the world.
"It was a big challenge when we first introduced the Prius, or hybrid car, in 1997," Tanaka said in an interview in Tokyo, The Guardian reported. "And it's an even bigger challenge this time because there is no infrastructure," pointing toward the lack of fuel cell stations.
Challenges
Lack of fuelling stations is a major setback. There are only a few dozen hydrogen filling stations worldwide but the government is actively participating in building more. In Japan there are about 30 stations, primarily in the urban areas around Tokyo, Osaka and Nagoya cities in central and western Japan.
In the U.S., there are only a few stations available for hydrogen fuel but Toyota is investing in building a wider infrastructure in California and the Northeastern United States. The California government has pledged to invest $200 million over the next decade to build 100 stations, which can be a boon for companies like Toyota, Honda, Hyundai and Mercedes-Benz.
If Prius is any indication, Mirai will take off at a good pace in the next few years. Prius is now selling in millions and the company's charman Takeshi Uchiyamada said the sales of Mirai will range in tens and thousands of units in the 2020s, according to Reuters.
On the plus side, Mirai has a longer range on road, traveling 300 miles between refueling, according to company executives. Toyota is also offering some exclusive perks for its early buyers by offering 24/7 concierge service, roadside assistance, Toyota Care maintenance for three years, eight-year or 100,000-mile warranty on fuel cell components and complimentary hydrogen fuel for up to three years.