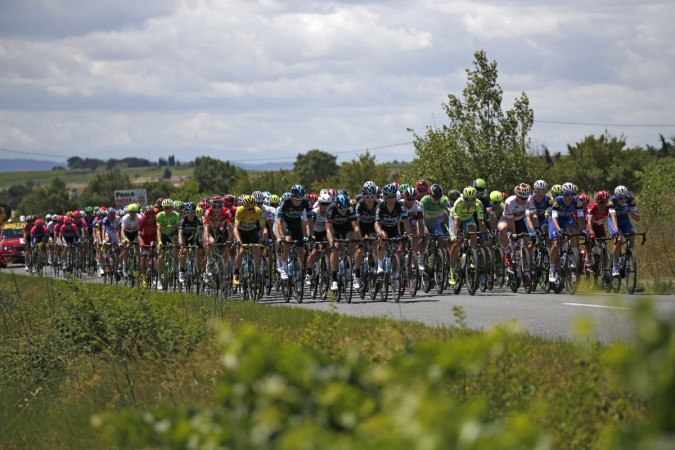 Green jersey holder Peter Sagan finished alongside yellow jersey holder Chris Froome in what was a neck-to-neck stage 11 at the Tour de France 2016 on Wednesday. The stage remained a flat one, unlike Thursday's stage 12 which sees the riders travel 172 km from Montpellier to Chalet-Reynard, located in the south side of Mont Ventoux.
The stage was originally supposed to end at the top of the historic Mont Ventoux, but the tour organisers remained extra cautious at the back of some strong gusts of wind at Provence.
The occasion, also the Bastille Day, will give the general contenders and Froome, in particular, to build the lead further towards the yellow jersey.
"Everyone wants to see a great show but the most important thing for the riders is safety," said Froome to the BBC. "Of course I was looking forward to doing Ventoux - it's the most iconic climb, the most legendary climb in this year's race.
"There are gale force winds and it just wouldn't be safe for the riders, so thank you to the organisers for making the decision."
Although the stage culminates six kms before it was originally scheduled to, the anticipation doesn't die down a bit. Points will double up as the riders arrive at Chalet-Reynard and that will remain crucial for the polka-dot jersey -- the king of mountains -- contenders to make a mark. The current polka dot jersey holder Thibaut Pinot is expected to bag the honours in the stage.
"The climb until Chalet Reynard is extremely hard. A lot of wind is predicted," added Froome. "There could be a split (in the peloton) even before the climb. I don't know what to expect. If anything it's going to mean an even more intense race before we hit the climb because it's going to be shorter."
Where to watch live
Stage 12 is on Thursday, July 14.
In India, the 21-day race will be LIVE on Ten 1 (7 p.m. IST), with the option of Live streaming on tensports.com
Viewers in the UK can catch it on Eurosport (1 p.m. - 4.45 p.m. BST) and ITV4 (2 p.m. - 4.30 p.m. BST). Live streaming: British Eurosport, ITV4.
Viewers in the US can catch it on NBC Sports Gold from 7 a.m. EST. Live streaming: NBC Sports.