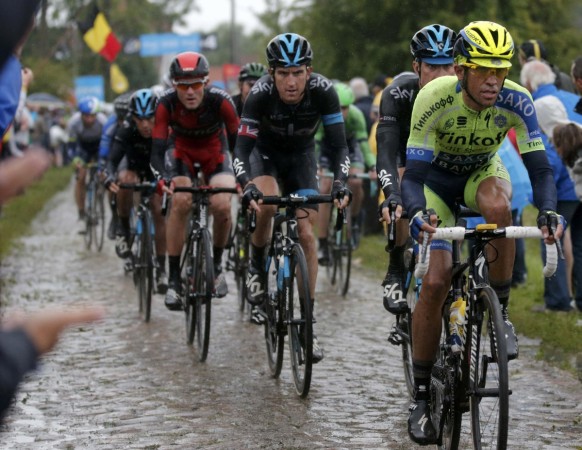 Tour de France's Stage 6 will be underway on Thursday. After Wednesday's horror ride, with rain and a gruelling path causing great difficulties, the contestants will be hoping to emerge from the race unscathed. Lars Bloom of Belkin had won Stage 5.
The race stretches to Reims, an area reputed for sprint finishes. If rain came in the way of the riders on Wednesday, strong winds are expected to surface and pose a problem or two in Stage 6. Defending champion Chris Froome will be a notable absentee in the tournament from now on as after two crashes in the last stage, he was unable to continue.
For the General Classification (GC) riders it'll be a couple more days of surviving, before the climb well and truly begins for them. A long journey lies in front of the contestants, reported CyclingQuotes. The riders will start Stage 6 from Northern France and head toward the Vosges. The ride has been split into a couple of stages, which is seen beneficial for the contestants.
In the first stage, a ride from Arras to Reims will be seen - a southeasterly ride, according to the report. Riders will encounter flat territory in these areas of France. Here no untoward road conditions are expected. In the second half of the race, the riders will encounter hills - namely Cote-de-Couchy-le Chataeu-Auffrique and Cote de Roucy.
Cote de Roucy will emerge 37 kilometres to the closing stages for the contestants, and thereafter the roads are said to be flat, claims the report. A sprint will be on view at the 119-kilometre mark, which is on a straight road.
In the ending stages, the riders will have to contend with six roundabouts, which fall between the 6 and 2 kilometre mark. One right turn heads to one left turn in a roundabout that is 1100 metres before the finishing line. From there it's no more than 8 metre as the road is flat.
Reims last featured in the Tour de France in 2010, when Alessandro Pettachi took pole position. The weather wreaked havoc in the previous stage. Rain has been predicted when the contestants depart from Arras. As the stage nears completion, the Sun may show itself. A cross-tailwind is expected to surface towards the stage's close, according to the report.
German Marcel Kittel, winner of three stages, is a favourite along with Alexander Kristoff.
Where to Watch Live:
Ten Sports Day 6
7-45 PM To 9-15 PM (IST)
France
Online Links
Ten Sports Day 6 HERE