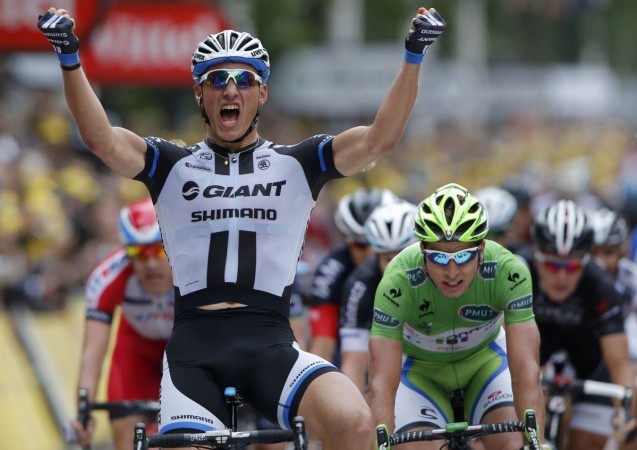 Tour de France 2014's Stage 4 commenced on Tuesday. The race heads into France after the completion of Stage 3 in England where Marcel Kittel of Germany registered a victory.
Vincenzo Nibali, who dons the Yellow Jersey, still has his two-second lead over other rivals Spaniard Alberto Contador and Chris Froome in the general category.
Marcel Kittel will have an opportunity to record another victory and strengthen his position. His rivals on the other hand can avenge their loss in the home of the Tour de France. "This was one of the fastest sprints I've ever done," said Kittel ,who added to his Stage 1 win.
Stage 4 consists of a flat run between Belgium and France as a huge battle is anticipated between the world's best cyclists on over the famed Paris-Robaix cobblestones, reported website CyclingQuotes.com.
The race will stay in the flat territory in Northern France for sometime in view of the commemorations that mark the centenary of World War 1. A major part of this stage will take in Belgium as the cyclists will begin this stage from the coastal town of Le-Toacquet-Paris -Plage and then ride to Villeneuve D'Ascq Lille Metropole which is south of the Belgian border. A 163.5 kilometre distance exists between these towns.
The initial part sees flat roads toward a north-easterly direction toward the city of Lille. The Cote de Campanaite, a mountain, is looked upon to be sole obstacle riders will come across at the 34 kilometre mark.
This stage will also feature a climb up Mount Cassel also known as Gent-Wevelgem. Cycling the last 3 kilometres said to be an ardous stretch will be a very tough proposition for these cyclists and pure sprinters may be in for a hard time here.
Thereafter it's flat territory once more as the riders head in a south-western direction toward Lille as a climb up Mont Noir may prove be challenging. In the last 46 kilometres the riders will be in the flat territories as they will encounter French soil towards the end. The ending stages at Lille will see the riders encounter numerous turns within the last 5 kilometres
Marcel Kittel of Giant -Shimano is said to be the favourite after his win in the third stage. Cyril Leminone (Cofidis), Jens Voight (Trek) and Blel Kadri (Ag2R) can provide still competition to the German.
Where to Watch Live:
Ten Sports Day 4
7-45 PM To 9-15 PM (IST)
France
Online Links
Ten Sports Day 4 HERE