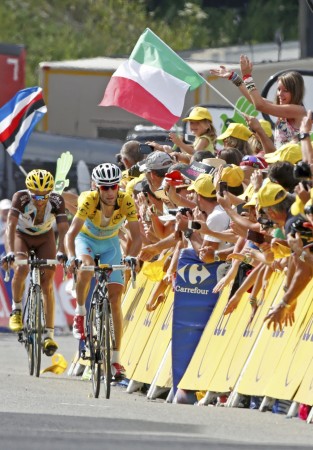 Tour de France 2014 will see Stage 15 held on Sunday. Rafal Majka of the Tinkoff Saxo recorded victory in Stage 14, while Vincenzo Nibali has the overall lead.
Contestants will cover a distance of 222 kilometres as they ride from Tallard in south-eastern France to Nimes in the southern part, which is near the Mediterranean coast.
The previous two stages in the Alps have tested every ounce of energy of the contestants. In Sunday's race, flat territory lies before the riders more often than not. This should be good news for the riders.
This race commences with a journey towards the south for the riders, and from here on they embark towards the west. The starting stages are completely flat in nature. Thereafter, as they head towards the Mediterranean sea for Nimes, the riders begin to descend.
What should please the contestants to no end is that they do not have any mountains to climb. 70 kilometres from the conclusion are absolutely flat. The riders shall encounter an intermediate sprint 46.5 kilometres from the end.
Furthermore, this sprint shall be contested on a flat road without any turns. The ending points comprise of numerous roundabouts which should make things slightly harder for the contestants. There are no less than five roundabouts, which lie between the ending 5 kilometre and 2 kilometre mark.
The good news is that after this there aren't many turns that may cause problems for the riders. Before the ending 1100 metres, there lies one solitary right turn. This turn leads to another one 600 metres from the conclusion. From here on, it's just flat territory.
Riders will be looking to make the most of this flat stretch. The ones lagging behind will be hoping that this stretch pays dividends as they look to notch up a win, while the riders in a good position will try and drive home their advantage.
More Tour de France success is something Majka is looking forward to, while Nibali will hope to consolidate his already impressive position as yellow jersey holder.
While the more-often-than-not flat stretches is good news for contestants, they should, however, brace themselves for rain.
Where to Watch Live:
Ten Sports Day 15
7-45 PM To 9-15 PM (IST) Sunday
France
Online Links
Ten Sports Day 15 HERE