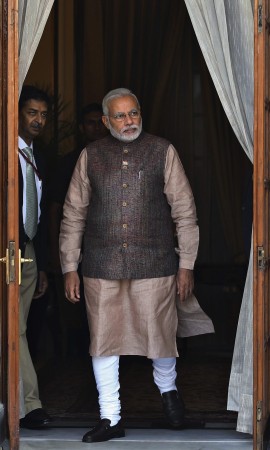 Prime Minister Narendra Modi on Saturday warned of tough measures to put back India's ailing economy on the fast-track of development.
The PM, was addressing Bharatiya Janata Party (BJP) workers' meeting in Panaji, Goa, blamed the UPA government for the current economic status of the country. To bring financial discipline, the implementation of tough and strong measures is inevitable, Modi stressed.
"Taking tough decisions and strong measures in the coming one or two years are needed to bring financial discipline, which will restore and boost the country's self-confidence," PTI quoted Modi as saying.
Modi's statements assume significance as Union finance minister Arun Jaitley is set to present the maiden budget of the new NDA government for 2014-15 in July.
The forthcoming budget is expected to revive the country's quarter-century economic slowdown. The budget is to spell out plans to implement the NDA government's election promises, which include price control, job creation and fast pacing of developmental projects. The budget is also to come out with means to revive the sick industrial sector.
India, which was being seen as a rival to China in economic development, is currently slowed due to several problems.
Reports say that the country has grown at sub-5 percent for two years continuously, for the first time since 1986. Even the country's industrial sector's condition was unsteady. Modi said that the UPA government has left everything empty and also added that India's financial health has gone down to bottom.
The PM stated that the love he received from people may get a dent when the tough economic measures are implemented in the near future. But Modi hoped that he will regain the people's love once they realise the results of the measures.
Allaying the misconception that people in the government are not working, Modi said that most officials would like to do something for the country. He pointed out that they are ready to work, and added that this is what he observed in the last 15 days as Prime Minister.
Before taking over the reins as Prime Minister, Modi worked as Chief Minister of Gujarat for more than 12 years. Gujarat is said to have achieved considerable development in several sectors due to Modi's efforts. The state achieved accolades for its development, especially in power, industrial, textiles, petrochemicals, dairy and other key sectors.
Modi's government recently announced 24-hour power supply to Andhra Pradesh, a state known for power problems.