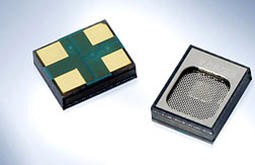 Adding another feather to the hat of hand-held devices, future smartphones and tablets would come up with touchless operating ability.
Using this, the users will be able to operate their devices from a distance of four to 12 inches.
A Chicago based firm, Knowles, has invented a sensor, named Ultrasonic. Based on Micro Electrical Mechanical Systems, one can listen to the sound waves, which are normally not audible to human ears.
These sound waves will usually be generated from a special speaker, integrated in the device. Listening to them, the sensor will triangulate the hand gestures in a similar technique used by Radars. The microphone in this circuitry will almost be similar to the tip of a pen.
It will allow users to flip pages or share information across devices through simple gestures, according to the US firm.
Knowles believes large manufacturers like Apple Samsung will integrate this sensor in their future devices and will fetch more revenues to them.
The iPhone 5 is already equipped with three microphones on-board and this one will add a fourth to them.
Cameras of a few smartphones and tablets already features the tracking ability with the sensors. However, this optical technology has not received the popularity it deserves because operating from a distance of 2 inches, what one may understand, is similar to operate the screen physically.
But Knowles believes their newly invented technology is superior to the existing ones as it can allow users to operate the device from a longer distance (which ranges from 4-12 inches compared to two inches in the existing ones).
Also, this sensor will consume less power than the competitors as it uses only sound waves, and hence it can be operated even in the dark.
Source: Phys