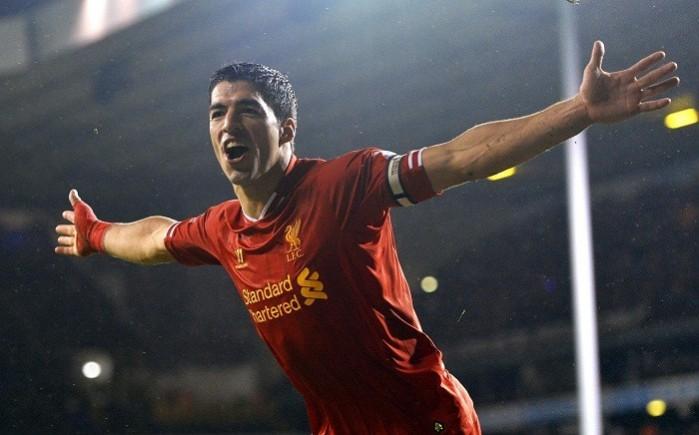 Arrogance - Brendan Rodgers used that word a couple of times to describe the "complete performance" that Liverpool handed out to Tottenham in the English Premier League on Sunday, and that word is probably the best way to describe what everyone saw from a Red shirt at White Hart Lane.
The leaders of that supreme arrogant - and that word is used in the kindest way possible - pack was Luis Suarez, who was just unplayable on Sunday, grabbing two goals and two assists in a flawless display.
The end result of the "arrogant" performance was a 5-0 thumping of Tottenham, who were played out of the park, and then some, in the first half, before the Paulinho red card sent their hopes tumbling down the proverbial drain.
"It was probably the most complete performance, to come here and get a victory like that," Rodgers said after Sunday's game when asked if it was his side's finest display since he took charge.
"I loved our arrogance today. The arrogance with the ball was very good -- lots of angles, lots of people moving and interchanging positions. We looked a real threat whilst retaining that solidity in defensive shapes. It was very good.
"The model of our game today was outstanding. We were like animals without the ball, how we pressed, and our hunger for the football was great. Once we got it, the use of the ball was outstanding. It was a complete performance and a big victory for us."
Suarez got things rolling with a brilliant left-footed finish, before Jordan Henderson, who seems to just get better and better, made it 2-0 before halftime. Paulinho was sent off around the hour mark for a karate kick on Suarez, with Jon Flanagan, Suarez again, and Raheem Sterling taking full advantage of having the extra man.
"In football, it is very hard to sustain that level. We have had a lot of first-half performances that have been exceptional and sometimes it just tailed off in the second half, which is natural in the game," Rodgers added.
"We knew today we had to retain our focus - -Tottenham have an outstanding squad here, with a lot of talented players. If you lose your concentration, you can concede.
"Our concentration was good defensively - we had good shape to our team, the organisation was very good from the players when they pressed.
"What really pleased me was when they went to 10 men, how tactically we opened up the pitch with the ball but also pressed even harder to get the ball back.
"We work on overloads in training when you have the man advantage, and I thought we saw that through very well. We scored five and maybe could have had seven or eight."
The performance was all the more impressive as it was done in the absence of their skipper Steven Gerrard; but then when you have a player of Suarez's ilk, any team can be mowed down if he is in the mood.
The feeling is, as long as Suarez plays like this, which he will if he is fit, then Liverpool will seriously be up there competing with the rest of the big boys for the Premier League title, with the three points against Spurs taking Rodgers' men to second place and just two points behind leaders Arsenal.
"I'm not even thinking about that [winning the title], to be honest," Rodgers said. "My job was to try to develop the style of football, whilst moving the club forward.
"What we've tried to do is move every aspect of the club forward. Obviously you dream and I didn't come here to be fourth or third or second -- eventually you want to win, but you've got to be realistic as well. Last year we were seventh.
"If we can stay clear of injury and just continue to improve our football and what we're trying to do, let's see where it takes us."