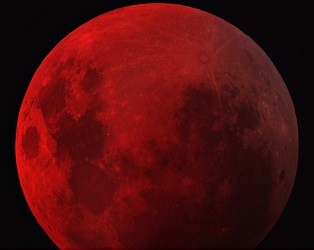 The first total lunar eclipse of the year 2014 will occur on the night of 14-15 April and will be the first of the tetrad lunar eclipses to occur over the next 18 months. While the lunar eclipse will be visible from various regions across the world; the North America and some parts of South America will have a clearer view.
The total lunar eclipse will occur in the early hours around 2 a.m. EDT (05:00 a.m. GMT and 11:30 a.m. IST) and would last for about 3.5 hours. By 3:00 a.m. EDT (06:00 a.m. GMT and 12:30 a.m.) the moon will be entirely eclipsed by the planet's shadow.
NASA will host two events for NASA moon experts to answer any public questions. On Monday, 14 April from 2-3 p.m. EDT, Renee Weber, NASA planetary scientist will answer question via a Reddit AMA (Ask Me Anything). The Reddit page will be live on 14 April at approximately 1:45 p.m. EDT, according to NASA.
On 15 April, NASA astronomer Mitzi Adams and astrophysicist Alphonse Sterling will also respond questions in a live web chat on the NASA website at 1 a.m. EDT and continue through the end of the eclipse (approximately 5 a.m. EDT).
The Tetrad has happened only three times in over 500 years, according to NASA. The rare lunar eclipse will make the moon appear a reddish-orange color which is dubbed as 'Blood Moon.' This phenomenon will occur three times before the end of 2015. The four blood moons will occur in roughly six-month intervals on the following dates: 15 April 2014, 08 October 2014, 04 April 2015 and 28 September 2015.
NASA's Marshall Space Flight Center will cover the live stream of the lunar eclipse.
Check for the live coverage of the lunar eclipse here.
Photo Credit: NASA
(ED/VS)