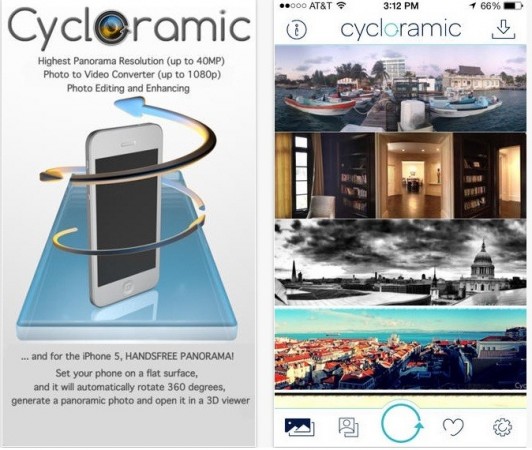 Cycloramic is currently the hottest app doing the rounds. It has shot to the top of the App Store, after it was featured on ABC reality TV show 'Shark Tank'.
What is so special about Cycloramic?

Cycloramic has been around for over a year and already has over seven million downloads. It is dubbed as the first app that takes hands-free 360-degree videos by using the iPhone's built-in vibration motors to spin the device.
It was first released as a panoramic video-capturing app. Later Cycloramic updated the app and integrated support that allows it to take panoramic 360 degree photos as well.
Apple co-founder Steve Wozniak himself praised the app and noted: "Unexpected, fanciful and useful all at the same time!"
Best Feature
In either shooting mode, Cycloramic's USP is its hands-free operation, enabling the user to capture panoramas by having the iPhone vibrate, and automatically turn in a full circle.
Other Features
Big, gorgeous photos - The photo suit app gives amazing results. The panorama output it can deliver is up to 44MP.
A complete photo editing suite - It comes with Aviary's and Cycloramic's best-in-class photo editing tools to enhance the photos with filters, frames, and stickers.
Cycloramic Tops App Chart and Price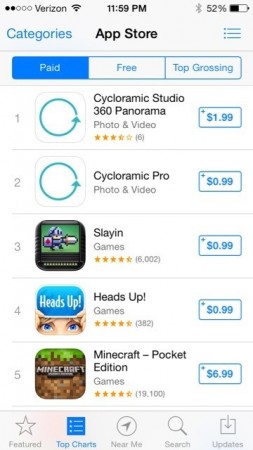 As per figures from Appstatics, Cyloramic's $1.99 Studio 360 Panorama edition jumped to no. 1 position from 200, after it featured on 'Shark Tank'. Meanwhile the $0.99 Cycloramic Pro edition jumped more than 300 places to move to no. 2.
Compatibility
Cycloramic photo app guided mode is compatible with iPhone 4/4S/5/5S/5C.
The handsfree 360 panorama mode only works with the iPhone 5/5S
Where to download?
Download app from Google Play or AppStore.
Watch Demo here -