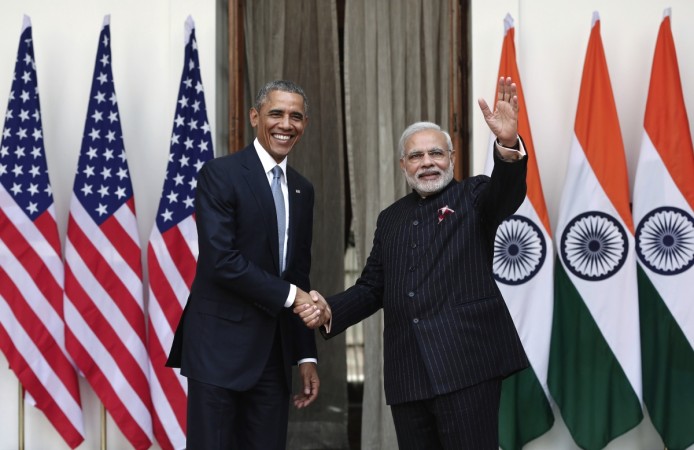 A senior Obama administration official will be speaking on U.S.-India economic relations on Friday in New Delhi. This comes in the context of Indians, especially information technology (IT) companies, watching the contest between the two presidential nominees — Donald Trump and Hillary Clinton stepping up their campaigns.
Adewale "Wally" Adeyemo, Deputy Assistant to the U.S. President and Deputy National Security adviser for International Economic Affairs, joined the Obama administration in 2009.
It is pertinent here that the two countries have a strong commitment to strengthen bilateral relations, with Modi and Obama having met each other seven times since the former chief minister of Gujarat became prime minister in May 2014. Modi's latest visit to the U.S. was in June this year.
The session titled "U.S.-India Economic Relations, Opportunities and Challenges Ahead" could be important in the context of bilateral trade declining during the January-May period this year.
India's merchandise exports fell 0.7 percent to $19.26 billion, while the U.S. shipped goods worth $8.25 billion, 5.4 percent less when compared to $8.71 billion, according to data available with the Embassy of India in Washington. Total bilateral merchandise trade was $27.38 billion during the five-month period this calendar year.The two countries also have a strong trade in services, though data on the same was not available.
The most thorny issue between the two countries when it comes to trade is the steep hike in H1B and L1 visa charges last December. An estimate by Indian trade body had pegged the outgo for Indian companies between $1.4 billion and $1.6 billion every year, for the next 10 years, after the U.S. imposed a special fee to fund the 9/11 healthcare legislation last December.
Though support to Indo-U.S. relations are perceived as bi-partisan in India by diplomats, a victory for Trump could be negative for Indian companies. But from a country perspective, the impact would be minimal, according to a note by Nomura Global Research.
"South Korea and the Philippines seem among Asia's most vulnerable to a Trump presidency, while India and Thailand appear among the least exposed," the brokerage said.
"An H-1B crackdown under Trump would lower the profitability of Indian IT companies (due to higher wage costs), while potential restrictions on business process outsourcing (BPO) could also hurt revenues," it added.
Given his presumptive rhetoric as one of a protectionist, there could be implications for India if he wins, suggested Meera Shankar, diplomat and former Indian envoy to the U.S., though she also played it down.
"India is in a fortunate place. We enjoy bi-partisan support among Republicans and Democrats. Whoever is elected, the policy would be to seek better relations with India," she told News18 last month.