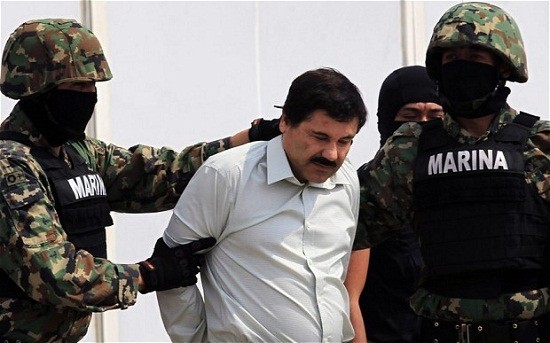 Notorious Mexican drug lord Joaquin Guzman, also known as El Chapo Guzman, escaped from a maximum security prison yet again, media reports said on Sunday.
Guzman reportedly fled on Saturday night. Mexico's National Security Commission said in a circular that he was last seen entering the shower area of the jail "at 20.52", according to Mexican news source AP.
That was the last image of El Chapo Guzman captured by the CCTV cameras outside the common shower area. The Altiplano prison authorities, after finding that Guzman was neither in the shower area nor in his cell, sounded an alert, following which additional forces were deployed around the prison. All flights from the Toluca airport were also suspended, the Associated Press reported.
The Mexican authorities said in the press conference on Sunday morning that the El Chapo escaped through a mile long tunnel, build underneath the maximum security prison. The Washington Post reported that the secret tunnel was not only well-illuminated, it even had a arrangements for proper ventilation.
Guzman, it is believed was whisked away on a retrofitted motorcycle-on-rails, according to WP.
Guzman, the leader of the Sinaloa cartel, which is responsible for smuggling huge amounts of illegal drugs into the United States, was arrested in a joint operation, involving both the Mexicans and Americans special forces, from a hotel in Mazatlan, Sinaloa in February 2014.
He was serving a 20-year jail sentence in the Altiplano prison.
This is the second time Guzman has managed to escape from a Mexican prison. The El Chapo had made a similar escape from a federal maximum security prison on 19 January, 2001. He fled the Puente Grande prison in the state of Jalisco bribing the officials.
After escaping from the high-security prison, Guzman, who is considered Mexico's richest and most dangerous drug lord, went on to marry 18-year old beauty queen Emma Coronel.
Following the arrest of Guzman, it was widely speculated that Emma was also arrested with the drug lord. However, it could not be confirmed. Guzman reportedly has twin daughters with Emma.